Linglong Tire's Wang Feng an EY Entrepreneur of the Year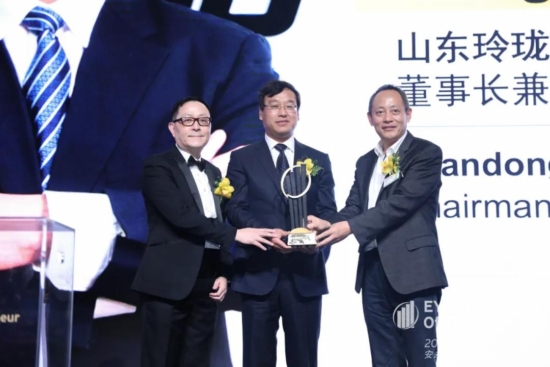 Ernst & Young has named Linglong Tire's Wang Feng one of its entrepreneurs of the year in China. The tyre maker's chairman and president was one of the ten award recipients at the 15th Ernst & Young Entrepreneur Of The Year Award China ceremony, which was held in Shenzhen on 18 December 2020.
The theme of the 2020 awards was 'Know Your Challenge, Go Far and Beyond', and the judging panel particularly focused upon business leaders who innovated and moved forwards through actively playing a key role in society and fulfilling social responsibilities, amidst a challenging COVID-19 situation.
The Ernst & Young Entrepreneur Of The Year Award was first held in the United States in 1986 and has since expanded to more than 145 cities in 60 countries and regions. To date, these awards have honoured more than 1,000 outstanding entrepreneurs worldwide.
Selecting the 2020 Entrepreneur Of The Year Award China recipients was a process that took nearly six months and saw business leaders evaluated in terms of their entrepreneurial spirit, financial performance, strategic direction, innovation, national or global impact and purpose-driven leadership.
Wang Feng stood out as an awardee candidate for a number of reasons. Linglong Tire views the following factors as decisive in his selection:
Vision and mission
Wang Feng set out his vision in the company's international development strategy in 2010 and led Linglong Tire to expand on a global scale. The company currently operates seven production facilities around the world. In 2020, Wang led the upgrading of Linglong's "5+3" global strategy to a "6+6" strategy that calls for the construction of six factories within China and six factories outside of the country together with a global R&D and marketing strategy.
Ingenuity and persistence
Linglong Tire says Wang's focus on R&D has led it to adhere to "emphasising on technology, management, creating a reputable brand, and maximising efficiency." The tyre maker believes this focus has strengthened the company and contributed to technological transformation and upgrading within the tyre industry, and has also promoted the high-quality development of China's tyre market. As evidence, Linglong notes that its patent ownership is currently one of the highest within China's tyre industry, and to-date it is the only tyre firm to have won the 'China Industry Award'.
Innovation
Even amidst the unfavourable market environment in 2020, Wang Feng led the Linglong Tire team to launch its 'new retail' plan ahead of schedule. Though the development of a smart marketing platform he engineered a combination of online and offline retail for Linglong Tire. This new retail concept helped the company's growth in the first nine months of 2020 despite a difficult market situation. Linglong Tire achieved an operating income of 13.246 billion yuan (£1.5 billion) for the period, a figure that makes it the 11th largest listed tyre company in the world according to some estimates (Linglong Tire is ranked 14th in our most recent list of the world's leading tyre makers).
Responsibility and mindset
According to Linglong Tire, Wang Feng's innate responsibility and mindset to "contribute to the world" has "inspired him to bravely assume public responsibilities in environmental protection, community service, job creation, employee growth, and charity." During the COVID-19 pandemic, he took the initiative to make contributions in the form of donations of epidemic-prevention and other materials. He also worked to resume production and supply at Linglong's plants.
Building dreams in a post-pandemic world.
Entrepreneurs will face an entwined myriad of challenges and opportunities in the post-pandemic era, and Linglong Tire notes that they will need to successfully navigate these in order to "help China's economy navigate a new world."
To this end, Mr Wang said in his acceptance speech that he will lead the Linglong team to "always uphold the corporate mission of building dreams with ingenuity and prosperity through the tire industry, and build Linglong into a world-class enterprise with the spirit of integrity, innovation and entrepreneurship." In doing so, he hopes to pioneer the tyre brand to be first-class in technicality and management, with a brand influence that will help China's economy improve in quality and efficiency, and achieve long-term stability with Linglong's higher-quality development.