Hankook partners with Tableau Software for next-gen business intelligence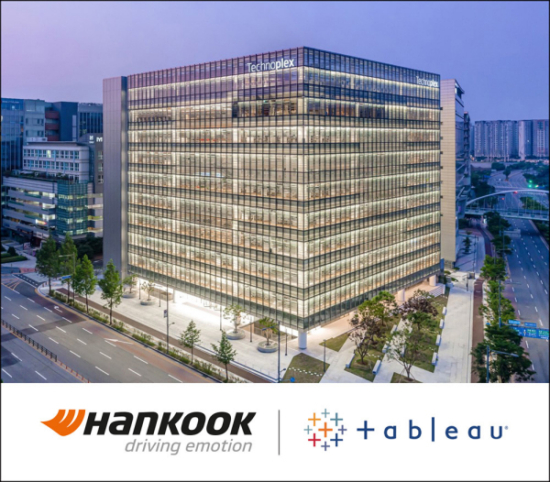 Solutions provided by Tableau Software are driving digitalisation within Hankook Tire. The tyre maker shares that thanks to Tableau's data-driven analytics platform, it has gained "next-generation business intelligence."
By adopting a range of solutions such as Tableau Prep, Hankook has created a standard database processing algorithm that enables accumulation of globally-scattered data, thereby speeding up decision-making processes. This reduces the time required to analyse and report tasks, allowing more time to be allocated to deriving valuable insights from a business perspective.
The tyre maker also anticipates shortening development times through its partnership with Tableau Software – it reports an actual case where development time has been reduced by 75 per cent, based on the time taken to create the Tableau dashboard user interface after developing a prototype model for standardised reporting to final usage.
One step closer to leading position in digital transformation
"Through the partnership with Tableau Software, Hankook is redefining the way we work by bringing a whole new level of efficiency to data analysis and reporting," says Soo-il Lee, president and chief operating officer of Hankook Tire & Technology. "We are one step closer to securing a leading position in digital transformation. We will continue innovative changes to be fully ready for what future beholds."
Hankook says it plans to strengthen its standing as a global premium brand by innovating the way it operates as well as enhancing its digital capabilities. Hankook has been developing the 'Virtual Compound Design (VCD) system', an artificial intelligence-driven predictive model for tyre compound properties, as well as the 'Automatic Inspection Process', based which is based upon artificial intelligence and digital sensor technology. Most recently, Hankook has jointly developed the Road Hazard Prediction & Detection Solution with SK Planet and is working closely with KAIST (Korea Advanced Institute of Science and Technology), one of Asia's leading science and tech universities, on future technologies and industry-academic cooperation to accelerate digital transformation.