Falken bringing 2 cars to Nürburgring 24H Race & NLS Series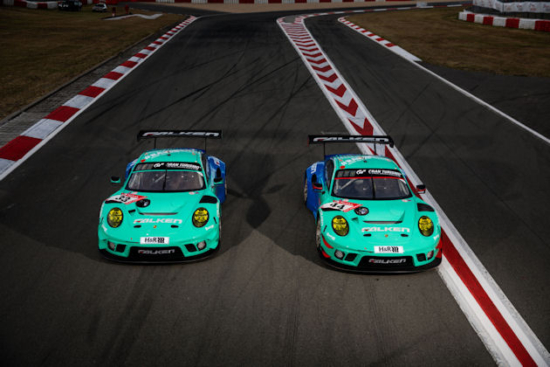 A decade on from debuting a sole Porsche 997 GT3 R on the Nordschleife, Falken will field a pair of the latest-generation 911 GT3 R cars in both the Nürburgring Endurance Series (NLS) and 24-Hour race in 2021. Schnabl Engineering, the German specialist that has supported the tyre manufacturer since 2011, will continue to run the Falken Motorsports team this year.
"Falken is delighted to confirm its intention to return to motorsport in 2021," says motorsports manager Stefanie Olbertz. "2020 was a very difficult time for fans, the NLS series and motorsport industry as a whole, and we hope that this year, by fielding two cars, we can entertain the enthusiasts, marshals and support the sector that has been hit so hard. The NLS did an incredible job to ensure that we could race at all in 2020 and we want to thank the organisers for putting in place procedures that enable the sport to continue."
With strong fan engagement and both cars running smoothly to the finish at last year's 24-Hour race, Falken has focused on returning with the 911. "Our relationship with Porsche remains strong, with excellent support trackside. Our fans have grown very fond of the teal and blue 911 since we raced our first one in Europe in 2011," adds Olbertz. "It was, therefore, a natural choice to continue with Porsche and Schnabl this season."
Testing moved to Nordschleife
After the disruption of 2020, Falken intends to enter both 911s in seven rounds of the NLS series, with both cars taking part in all the races that precede the 24-Hour event. The NLS series commences with the ADAC Westfalenfahrt on the 27 March and the 24-Hour race scheduled to take place between 3 and 6 June. Ticket sales for this season highlight have already commenced despite current lockdown restrictions.
One aspect of the team's preparations differs this season: Instead of the traditional rollout at Portimao, corona-related restrictions have limited testing to the Nordschleife. "Given the current situation, it makes the most sense to stay in Germany and we will be present with both cars at the NLS official test on the 20 March," concludes Olbertz.
Falken will announce its driver line up in February.