A foretaste of normality: Michelin launches 2021 Guide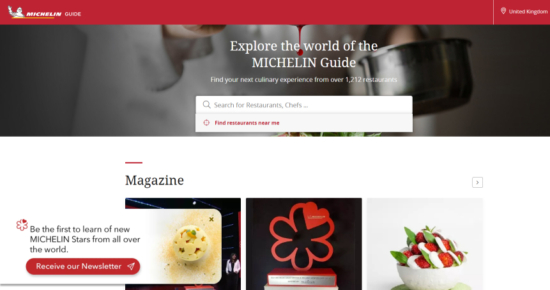 The Michelin Guide Great Britain and Ireland 2021 is now in circulation and available for the very first time as a digital-only product. Michelin unleashed the latest Guide and announced the latest recipients of its Michelin Stars, Bib Gourmand, Michelin Green Stars and special awards during an online presentation on Monday.
Speaking at the virtual launch, Gwendal Poullennec addressed the "hugely challenging" times the hospitality industry has endured and stressed that Michelin's "thoughts remain with all those who have suffered from the pandemic and by the restrictions that have been put in place." The Michelin Guides international director added: "We were heartened by the number of chefs who called us during the year to ensure we were still going ahead with the Guide and our yearly awards. The Michelin Guide is about so much more than recognising those at the top of their profession; it is about promoting the hospitality industry as a whole and we want to shine a light on the hard work, tenacity and commitment of chefs and restaurant teams."
When restaurants re-open, patrons in Britain and Ireland will delight in visiting the region's 185 Michelin-starred restaurants: Seven One Star establishments (two new), 20 Two Star restaurants (three new) and 158 Three Star restaurants (17 new). Michelin has given Bib Gourmand status to 16 restaurants this year, bringing the total to 126. Additionally, it has awarded 23 restaurants a Michelin Green Star for sustainability.
By postponing publication for a few months and by making the Guide digital only, the inspectors were able to work on this edition for over 16 months, which meant the lockdowns could be easily absorbed into the working period. Michelin reports that they've used the same methodology and looked for the same standards as they do in any year. "There have been no shortcuts taken that would compromise the integrity of the Guide."
Two restaurants awarded Three Michelin Stars
This year's highlight is that two restaurants have been promoted to our highest award. Both CORE by Clare Smyth and Hélène Darroze at The Connaught achieve Three Stars – an extraordinary achievement in any year but particularly impressive at a time when the hospitality industry has faced so many challenges, not least having so many stops and starts.
Three new Two Star restaurants
London also sees three new Two Star restaurants: Da Terra in Bethnal Green, which won its first Star in 2020 and where flavours and textures are intriguing and captivating and colours burst through; Story in Southwark which offers visually impressive and imaginative dishes crafted with care and precision; and A. Wong in Victoria which becomes the first Chinese restaurant in the UK to achieve Two Stars thanks to Andrew Wong's cooking which is refined and sophisticated, diverse and original.
17 new One Star restaurants
There are 17 new One Star restaurants. In London they include Cornerstone and Casa Fofō, both in Hackney, SO|LA in Soho, Davies and Brook in Mayfair, Muse in Belgravia and Behind in London Fields; Benares regains its Star. In Scotland, longstanding Glasgow restaurant Cail Bruich is awarded a Star, and in Republic of Ireland the modern Turkish cuisine of Ahmet Dede is rewarded with a Star for his restaurant dede in Baltimore.
In England, Merlin Labron-Johnson has made Bruton his home with his restaurant Osip, while hide & fox is the best thing to happen to Kent in a while. Outlaw's New Road in Port Isaac is awarded a Star and there's a little bit of Sweden in the shadow of Hadrian's Wall with new Star Hjem. Roots in York is another feather in Tommy Banks' cap, while two country house hotels are awarded a Star: Shaun Rankin at Grantley Hall and Latymer at Pennyhill Park. Pea Porridge's achievement is a story of our times: chef-owner Justin Sharp undertook some introspection during lockdown which resulted in him taking a new approach to his cooking.
The Michelin Green Star – 23 restaurants committed to sustainable gastronomy
This year's Guide also sees the introduction of the new Michelin 'Green Star' distinction which highlights restaurants that are leaders in sustainability practices. "Launching a brand new distinction dedicated to sustainable gastronomy shows that our recognition of restaurants goes beyond the search for the best cooking. It enables us to also turn the spotlight on those with a great sense of responsibility towards the environment," comments Poullennec.
Whether these restaurants are champions of local produce, pioneers in the fight against food waste or leaders in vegetable growing, they are selected on the basis of research, fieldwork and investigation carried out by the inspectors. By awarding Michelin Green Stars, the Michelin Guide wants to highlight the best and most innovative practices in order to inspire not only the industry, but also all the readers and users of the Michelin Guide.
126 value-for-money Bib Gourmand restaurants, including 16 new 'Bibs'
There are also 16 new Bib Gourmand, our award for restaurants offering good food at competitive prices. These range from Peckham Cellars and Fallow in London to Noto in Edinburgh, Spitalfields in Dublin and Volpe Nera in Blackrock.
Four special awards to highlight restaurant industry talent
Four special awards were also announced during the presentation. The Young Chef of the Year is Kray Treadwell from Birmingham's 670 Grams restaurant, while the Chef Mentor award, offered by Blancpain goes to Ross Lewis of Chapter One in Dublin. The Service and Welcome award, supported by Lavazza goes to Saul McConnell from Noble in Holywood, and the winner of the Sommelier award, offered by the Craft Irish Whiskey Co., is Karine Canevet of Maison Bleue in Bury St Edmunds.
Start planning for when normal life resumes
"One day soon restaurants will reopen and we want to show all the potential customers out there that there is a fantastic choice of restaurants throughout the UK and Ireland from which to choose With this digital guide, they can now start planning where they will be going when normal life resumes," Poullennec concludes.
Web & app access
As mentioned, this year the Guide is published in a digital format only, and is available at the following sites:
UK: https://guide.michelin.com/gb/en
Ireland: https://guide.michelin.com/ie/en
iOS app: https://apps.apple.com/gb/app/michelin-guide-worldwide/id1541129177