ChemChina entrusts Aeolus with Prometeon Tyre Group shares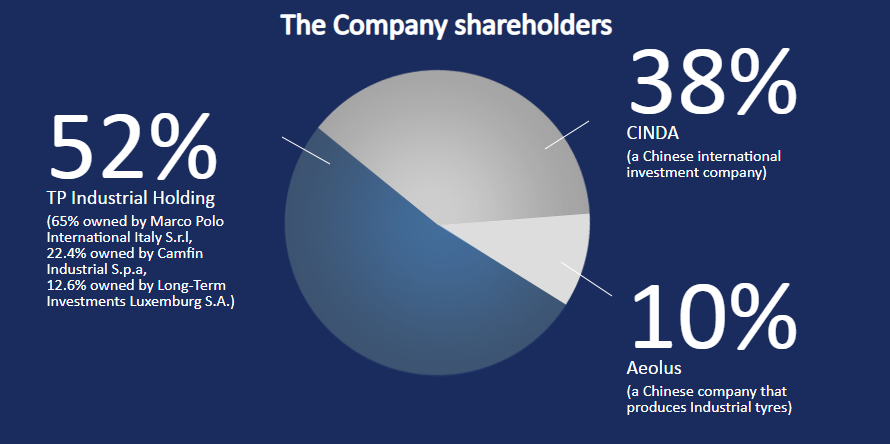 Aeolus Tyre Co Ltd and its controlling shareholder, China National Tire & Rubber Co. Ltd (CNRC, which is itself owned by Chinese petrochemical giant ChemChina) executed a "share entrustment agreement" on 30 November 2020. According to the agreement, CNRC will "entrust" its 52 per cent shareholding in Prometeon Tyre Group Srl to Aeolus for three years. But the three-year term will be automatically renewed upon expiry.
According to an Aeolus statement, the execution of the share entrustment agreement addresses internal wranging within Prometeon's ownership by "solving the horizontal competition issue" and is "conductive to further exert synergies for both parties and enhance their abilities to continuously create value for their shareholders." Moving forward, Aeolus reports that "Aeolus and PTG [Prometeon] will actively leverage the advantages of both parties, comprehensively improve technological innovation and advanced manufacturing capabilities, and provide customers with more and better-quality products."
ChemChina chairman supported 'immediate action'
Such words can be interpreted a number of different ways, but it is clear that they are designed to convey the message that the situation within Prometeon is developing. What was clearer was Aeolus' indication that "Aeolus and PTG will jointly" work on a number of improvements in channel synergy and procurement.
Something else we do know is that, on 20 October 2020 – a little more than a month before the share entrustment agreement was announced – Ning Gaoning (chairman of ChemChina-Sinochem, the world's largest chemical group and main shareholder of Aeolus and Pirelli) visited Aeolus' headquarters in Jiaozuo. His call for "immediate action" at the time of the visit show the extent of ChemChina's support for Aeolus: "Aeolus needs to strengthen its international footprint, and enhance its system, including through a closer collaboration with Prometeon Tyre Group, to become the global leader in the tyre industry is meant to be".
Prior to the share entrustment agreement, Aeolus held 10 per cent of Prometeon's shares, which suggests Aeolus now controls 62 per cent of Prometeon. However, since the 62 per cent figure is based on CNRC's indirect shareholding in Prometeon, the details are somewhat more complex. According, to Prometeon's website. Prometeon's shares are split like this: 52 per cent are controlled by TP Industrial Holding (which itself is split between three multi-shareholder investment companies – Marco Polo International Srl (65%), Camfin Industrial Spa (22.4%), and Long-Term Investments Luxembourg SA (12.6%); 38 per cent of the shares are controlled by Chinese investment company, CINDA; and the final 10 per cent is owned by Aeolus.
Aeolus was founded in 1965 and listed on the Shanghai Stock Exchange in 2003. It mainly manufactures tyres for trucks, buses and construction machines, including the Aeolus, Fengli and Henan brands. It runs two manufacturing plants in Jiaozuo and Taiyuan, with more than 7,000 employees.
Headquartered in Milan, Italy Prometeon was formerly known as Pirelli Industrial Srl. Prometeon manufactures and sells a variety of tyres for trucks, buses and agricultural use, including Pirelli brand. Prometeon owns manufacturing plants in Egypt, Turkey and Brazil, with three research and development centres in Italy, Brazil and Turkey. It employs more than 7,300 personnel.
During the course of the last year, Prometeon has been linked with a change in ownership, with Yokohama repeatedly named as the primary bidder.