Auto Express all-season tyre test 2020: Continental, Goodyear and Hankook take the honours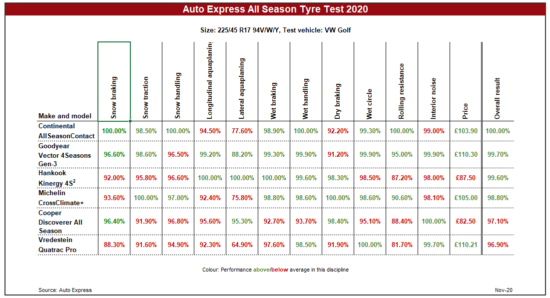 With sales of all-season tyres being one of the good news stories of an otherwise challenging year, at the end of November Auto Express published its latest test comparing the performance of leading year-round tyres. Continental's AllSeasonContact was the outright winner, but Goodyear's Vector 4Seasons Gen-3 and Hankook Kinergy 4S2 were not far behind it in second and third place respectively.
Using a VW Golf test vehicle, Auto Express's ranking compared six 225/45 R17 tyres. All six bore load ratings of 94, but speed ratings ranged from V for the eventual winner to Y for the sixth-placed Vredestein Quatrac Pro. The other four products (the: Goodyear Vector 4Seasons Gen-3, Hankook Kinergy 4S2, Michelin CrossClimate+ and Cooper Discover All Season) were all W-rated. As far as label ratings are concerned five of the six bore CB for rolling resistance and wet grip respectively. The Vredestein Quatrac Pro was the exception here, with it scoring EB on the tyre label. There was an even wider range of scores when it came to noise-rating with the tyres ranging between 69 and 72 decibels on the standardised pass-by noise test. Indeed, four of the size tyres had different ratings. The point is that, before Auto Express's tests even started, it is clear that the market has already chosen a wide range of strategies designed to overcome the challenges associated with all-season performance.
Auto Express tested the six all season tyres across 11 performance characteristics and included price in its comparison matrix (therefore 12 features in all). Test categories included: snow braking, snow traction, snow handling, longitudinal aquaplaning, lateral aquaplaning, wet braking, wet handling, dry braking, wet circle, rolling resistance and interior noise.
Back to the results, while Continental's AllSeasonContact won four of the 12 categories and was above average in eight, it is difficult to describe the tyre as clear winner because the Goodyear's Vector 4Seasons Gen-3 and the Hankook Kinergy 4S2 were just 0.3 per cent and 0.4 per cent behind overall. Indeed, Goodyear's tyre came within 1 per cent of winning three categories and Hankook actually beat Continentals tyre in longitudinal aquaplaning, wet braking and wet handling.
Just a slight margin behind what might be called the winning trio, the Michelin CrossClimate+ was also convincing overall and performed particularly well on snow. The Auto Express test found the Cooper Discoverer All Season and Vredestein Quatrac Pro tyre a bit further back that the rest of the table, although both of them also scored positively as benchmarks in one of the eleven tested categories.
Kim Adams, Auto Express Products Editor summed up the results like this: "Continental has created a strong performer in the AllSeasonContact, with good results in the wet, even better scores in the snow and low rolling resistance helping your fuel bills. It's another well-deserved victory for the German brand's great all-rounder."
But he also added: "Goodyear and Hankook were closely matched, with the former better in snow, the latter best in the dry."