Triangle Tyre Europe appoints UK sales director, OTR technical & sales manager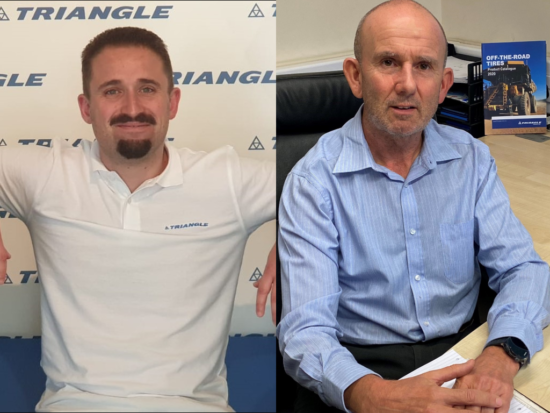 Triangle Tyre Europe has strengthened its team with the addition of two new managers. Corrado Moglia, general manager in Europe, said the appointments demonstrate how the company is focusing on the development of the brand in Europe. "We have recently added two valuable managers to our European team, Ayhan Haliloglou as OTR technical & sales manager, Europe, and Steve Eke as sales director for the UK & Ireland."
Haliloglou joined Triangle Tyre on 1 September. Moglia says that in the last two months with the team, he has "learnt about our professional approach in the earthmovers' sector, where we hold a strong double-digit market share in Europe." Reporting to Luca Mai, OTR director for Europe, Haliloglou will "take key aftermarket and OE technical responsibilities, working closely with our national partners, monitoring product performances and providing application expertise," Moglia adds. "He will contribute to the product portfolio growth and further improvement of the current extensive line-up, while promoting the opportunities that Triangle OTR provides to our dealer network."
Haliloglou is based in the Netherlands and has extensive experience in the tyre industry, having worked for Michelin, Bridgestone, Mitas, Trelleborg and Marangoni.
Steve Eke joins Triangle
Steve Eke was the managing director of Triangle's exclusive importer, TYM International, since 2003. Moglia says Eke "has been instrumental to the success of the brand in all product categories, PCR, TBR and OTR, with remarkable sales results in the United Kingdom. To give continuity to his professional support to the brand and the friendship that we have developed over the years, we decided to continue our journey by working together. Having a manager located in the UK and working for the UK is an important asset for us at Triangle but most of all it is an asset for our customers who can easily interact with Steve; he will also be responsible for the Irish market where we have a historical and friendly partner, Euro Tyre Sales."
Eke joined Triangle on 1 November. He will be responsible for managing customer accounts, developing Triangle's "rapidly growing market share in PCR," and will "work side by side with our newly appointed partner for TBR and OTR in the UK, RH Claydon," Moglia said.
Summing up the new appointments, Moglia concluded: "Our team is very committed and we have proven it over the last four years with achievements in terms of brand awareness, new national partnerships and sales results, and the addition of two new managers like Ayhan and Steve will bring even more professionalism and enthusiasm to the way we do business in Europe."