Suspected illegal storage at Bradford tyre fire site reported in July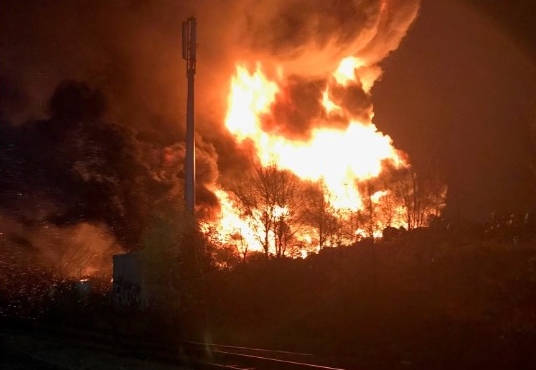 The site of the Bradford tyre fire which broke out in the early hours of 16 November causing disruption to the local area was investigated earlier in 2020 by the Environment Agency. Local newspaper the Telegraph & Argos reported on 14 July that a local resident had reported the former Ontrak karting circuit to the EA's Incident Hotline, and that the agency had subsequently started a probe. Go-kart circuits are permitted to use up to 40 tonnes of waste tyres as crash barriers if they obtain the relevant exemption permit. However, pictures taken by the Telegraph & Argos in July also show high stacks of baled tyres that do not resemble karting safety walls. Tyres & Accessories searched the EA's Public Registers of Waste Exemptions and Environmental Permits but found no evidence of permits or either the S2 or T8 permits required to legally store waste tyres registered to the former circuit's address. Meanwhile, the site's owner, Jak Yakoob of used car dealer The Car Empire, which backs onto the tyre fire site, told the Telegraph & Argos in July that the site's new tenant had agreed to clear the waste tyres from the site. The EA's spokesman said its officers were investigating the Spring Mill Street site's operators and were "seeking to determine if an offence has been committed so that appropriate enforcement action may be taken."
The site of the fire is the karting tack behind The Car Empire
Tyres & Accessories contacted the Environment Agency, seeking further clarification of what it had found in the four-month period between the site being reported and the eventual fire that broke out this morning. As we have seen again with this latest example, tyre fires cause a great deal of disruption and damage, while also causing reputational harm to the vast majority of the UK's many tyre businesses which operate according to best practice.
With this in mind T&A asked the EA about the outcome of its investigation, started in July 2020; whether the landlord or tenant had obtained a permit to store waste tyres; if the figure of 50,000 waste tyres, many in bales, was an accurate representation of the extent of the waste tyres held at the site, and on what basis the site's occupier was allowed to continue to operate; and whether EA officers had checked the site in the intervening period following its initial probe.
An Environment Agency spokesperson sent this response to T&A: "We have responded to an incident of a fire on Spring Mill Street in Bradford and are on site supporting the fire service as part of a multi-agency response to minimise risk to the local community and the environment.
"Our officers are investigating the operators of this site following reports to our Incident Hotline about the suspected illegal storage of waste tyres. There are strict rules governing the storage of waste tyres, which are designed to help prevent fires and to protect people and the environment."
Asked about its investigation into the site since July, the EA spokesperson told T&A that it was not currently able to comment further.
The issues relating to illegal storage versus responsible recycling were discussed in session 4 of the recent Virtual Tyre Industry Conference (click for more details).