Prometeon presents Pro Check fleet inspection and monitoring system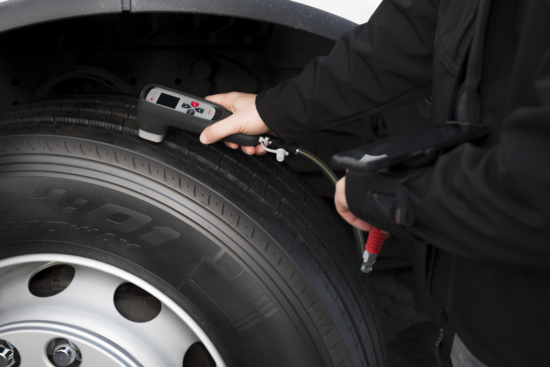 Prometeon head office has announced the launch of Pro Check, a digital monitoring solution specifically conceived to offer an easy and effective tyre management for fleets and dealers. Pro Check is the latest addition to Prometeon's Pro Services family. According to the company, Pro Check provides "a reliable and customized support to further optimize the operational efficiency of the fleets".
Specifically Pro Check is designed to offer "quick and easy inspection and constant monitoring" as well as "detailed and interactive online information about both the vehicle and tyres conditions". It also offers "removal forecast, optimized stock replenishment and price per kilometer contract management".
The Prometeon Pro Check solution is based on three assets: The TAP200 tool by Bartec Auto ID; A free app, connected via Bluetooth to the TAP200, available for both IOS and Android; and "a new open, powerful, comprehensive, safe and extremely user-friendly web based platform with a full set of reporting, analysis and interactive functionalities".
"Pro Check is a really valuable solution. In fact, the dealers of the Supertruck Network, who have contributed to its development through their feedback, are enthusiastic of its performance. This system will enable them to enhance their professionalism as a whole by further improving the quality of the services they will offer", said Marco Solari, Prometeon CEO Europe.
"We are proud of Pro Check, not only for its performances and potentialities, but also because the software behind the app and the online platform have been entirely developed by our Digital Innovations Team. This represents an important step in the path of becoming a complete tyre solutions provider. …These are the basis of the new products and services we can now offer our clients and partners", Alexandre Bregantim, Chief Technical Officer commented.
Pro Check is already available in Italy, Germany, Spain, Poland and next year in other European Countries, Turkey and Brazil. Tyres & Accessories understands that the full UK launch is scheduled for the first quarter of 2021.