Bridgestone gaining van fleet traction following all-season launches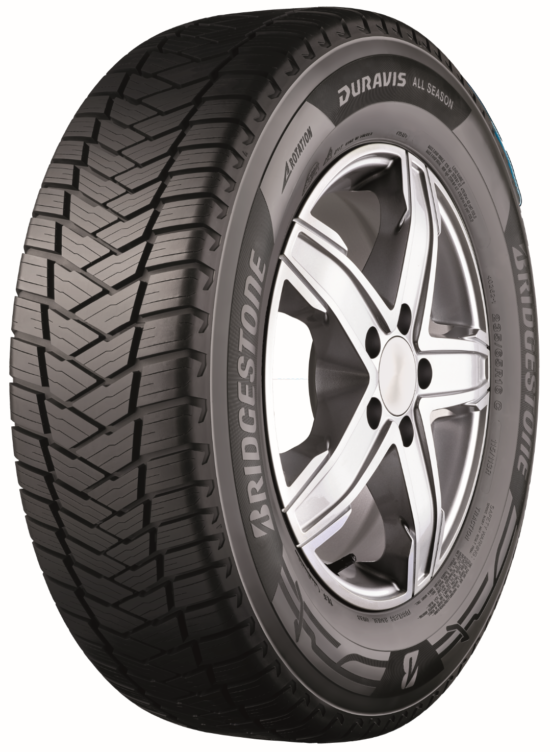 In August, Bridgestone launched new all-season van tyres under both its eponymous and its Firestone brands, the Duravis All Season and the Vanhawk Multiseason respectively. The Duravis All Season was the first all-season van tyre from the brand, achieving A-rated wet grip, while the Vanhawk Multiseason was a first all-season light commercial vehicle tyre in Europe for its second-line brand. In addition to this product expansion, the manufacturer says that it is gaining traction amongst van fleets for its tyre husbandry support service too, supplementing its expanding product portfolio.
The Bridgestone Partner network of dealer support and Total Tyre Care offering provide 'cradle-to-grave' support. The manufacturer says this service is increasingly important, ensuring the reliability of each fleet, which leads to the reliability of deliveries. Bridgestone says its bespoke solution for fleets are supporting its increasing share in the van market.
Bridgestone's commercial sales director Greg Ward said: "The van market is one we're thriving in right now, partly because of some incredible products such as the Duravis R660, partly because we have enhanced our all-season offering and partly because of the holistic aftercare service we provide all year round.
"It is a growing sector and many commercial fleets require support for a van element of their business as well as truck fleet too. We now have the products and the flexibility to support both.
"Our work with AAH Pharmaceuticals and Ocado are an example of how we are meeting the bespoke needs of each business, and providing maximum payload in the process.
"Most large van fleets suffer from tyre damage due to the nature of the work of local delivery. In built-up, urban areas, there is more potential for damage from mounting kerbs and other related hazards.
"Through our Total Tyre Care provision of tyre support, we provide regular tyre checks and subsequent reports to ensure the fleet has knowledge of every single tyre fitted. We can supply details of removal reasons through our Total Tyre Manager reporting methods.
"We use this information to look for any patterns in tyre damage and then we can advise how this is caused and what can be done to avoid it in future. We also set up monthly fleet inspection to identify sidewall damage that can be turned on rim to maximise tyre life and most importantly, avoid roadside assistance. That is where the real value of a premium service begins to come into play.
"Van tyre challenges are the same as those in the commercial truck industry but probably more critical, given the expected millage of van tyres versus truck tyre life."