Bradford tyre fire contained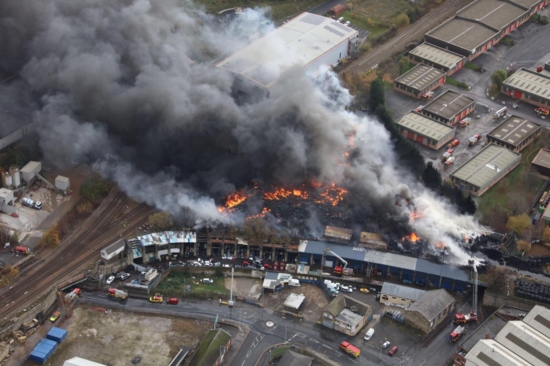 The largescale tyre fire near Bradford interchange has been contained, but disruption is set to continue into a second day (17 November 2020).
West Yorkshire Fire and Rescue report that they have now contained the fire after deploying over 100 firefighters, 15 appliances and two aerial units.
The fire, which started shortly after 03:00 on the morning of 16 November was initially attributed to a karting track by Northern Rail. However, aerial photography taken by Network Rail Air Ops team and shared on Twitter by Leeds City Station clearly shows that thousands multiple industrial units full of tyres and thousands more in open storage behind.
However, it now appears that earlier this year questions were raised about a large pile of waste tyres left on the former Ontrak Karting track.
The issues relating to illegal storage versus responsible recycling were discussed in session 4 of the recent Virtual Tyre Industry Conference: https://www.tyrepress.com/tyre-industry-conference-2020/.