8000 tyres 'at risk' in Bradford fire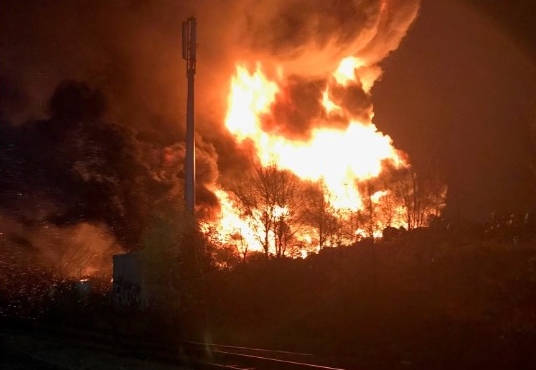 A tyre fire in the centre of Bradford, West Yorkshire has resulted in the closure of the 11 neighbouring streets, as well as significant travel disrupted on the nearby rail line and the closure of a local school, Bronte Girl's Academy. While the fire started early on 16 November, as of 9:00am, around 100 firefighters remained at the scene.
Northern Rail reported that fire began at "a Go-Kart Track next to the railway at Bradford Interchange is on fire", adding: "Around 8000 tyres and railway equipment are at risk from the fire which is around 50m from the Railway."
West Yorkshire Fire and Rescue reports that the fire started in the early hours of 16 November: "15 fire engines and 2 aerial ladder platforms were in attendance – along with around 100 fire fighters on-scene in the East Bowling area of Bradford.
No injuries have been reported and "all persons are accounted for", according to West Yorkshire Fire and Rescue. However, the inevitable amounts of smoke associated with tyre fires have resulted in significantly disruption.
"Due to the large amount of smoke, we're advising all residents in the vicinity to the east of the incident – the East Bowling Area – to please keep windows and doors shut.
We are also asking people to avoid travelling through this area. This is a multi-agency response, and we are working alongside West Yorkshire Police, Network Rail, and other partners," West Yorkshire Fire and Rescue said in a statement.