The Auto Workshop joins First Stop, rebrands as flagship centre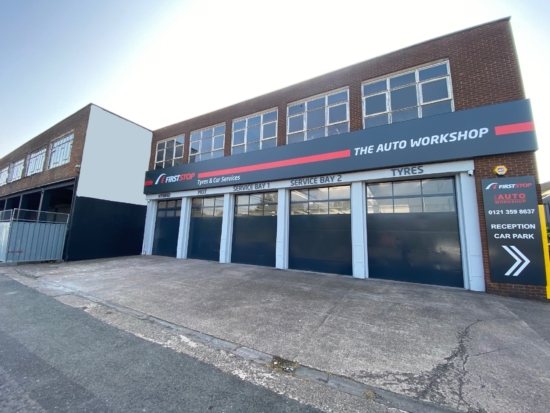 First Stop Tyre & Car Services has revealed its striking new rebrand at a flagship store in Birmingham. The Auto Workshop, headed up by father-and-son team Steve and Graham Todd, has become First Stop's latest partner. Five new jobs have been created in the process.
The Lichfield Road-based branch is the first of its kind in new corporate identity and gives an insight into the direction First Stop moving in, following the recent appointments of retail network manager Mark Widdows and marketing manager Nikki McCluney.
According to the company, the partnership with The Auto Workshop is seen as a massive coup for First Stop and "heralds a bright new beginning" for the Bridgestone-backed brand.
Mark Widdows commented: "To welcome Steve and Graham to the network is a massive coup and demonstrates the attractiveness of our retail proposition. The Auto Workshop is a family business, steeped in family values and is the fabric of the local community. They share our values as a network and the relationship we've already established is one that we will be looking to replicate across the network, as we seek to expand to more than 220 depots over the next four years."
The Auto Workshop is already a huge success story in Birmingham, counting on The RAC, The AA, Wolverhampton City Council and Birmingham City Council as fleet customers – providing MOTs for the Second City's Hackney carriage taxis.
The business has made the short move from its old location in Vauxhall Trading Estate and will continue to offer all automotive services including MOTs, servicing, main dealer level diagnostics and software updates, engine remapping, air-conditioning and a range of premium Bridgestone and Firestone tyres.
Steve Todd, aged 30, said: "We're looking forward to a new beginning with First Stop. We share the same values and to benefit from the strength of a national network like this is huge. The marketing support, group purchasing arrangements and association with the Bridgestone brand were all significant factors when deciding to join.
"But moreover, the relationships we have already forged tells us that this is a partnership to take us to the next level. The experience within the network and the commitment the team has shown us is something to lean on in the months ahead."
Despite the unprecedented problems posed by COVID-19, business is still brisk for The Auto Workshop, thanks in part to community relations forged since opening back in 2009.
Steve Todd added: "We were one of the first garages to utilise video software when repairing vehicles, so customers could see any defects we were addressing and the reasons why. Creating a level of transparency and trust has been what we're all about and while the pandemic has been tough for so many reasons, we have managed to remain in a strong position.
"It is important for our customers to know that we're always here for them, no matter what. This is a message we were keen to get across and despite some extremely challenging times, nothing has changed. We're still here and are more enthusiastic than ever, thanks in no small part to this amazing new premises and working relationship with First Stop."
On the new branding and franchise-based proposition, Mark Widdows added: "We're really pleased with the look and feel of the store. It has injected the network with a fresh impetus and a renewed sense of professionalism and expertise. We have ambitious plans for the future and this is just one example. We welcome Steve, Graham and their team to First Stop and can't wait to start work."