New Pirelli GT tyres support Spa 24 Hours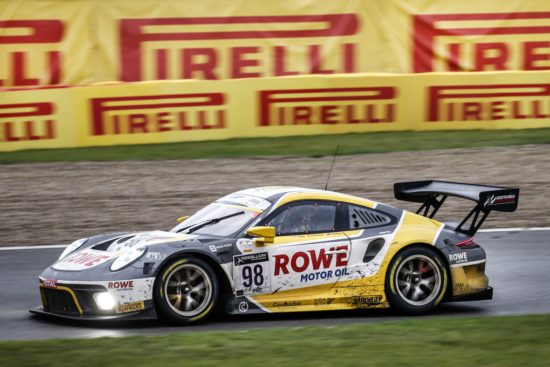 Pirelli supplied its new range of GT tyres to the 2020 Spa 24 Hours, the manufacturer's "biggest event of the year." In total Pirelli took 13,000 tyres to the Belgian circuit in a fleet of 34 trucks, with more than 65 tyre fitters working round the clock, underlining the tyre manufacturer's long-standing commitment to GT racing. The rescheduled event produced a thrilling competition, with multiple changes of weather and lead. The winner was only decided in the closing minutes.
The new P Zero DHE tyre was introduced at the start of the year for GT racing as a successor to the successful P Zero DHD2. It was designed to be even more adaptable to the wide range of cars, conditions and driving capabilities that are a hallmark of GT racing. The Cinturato WH tyre for wet conditions was also used extensively throughout this year's Spa 24 Hours. The race drew to a close in heavy rain, following previous intermittent showers and prolonged drizzle.
Pirelli says the toughest task for the 56 crews that started the race was coping with the alternately wet and dry conditions that characterised the long night at Spa. The change of date to October meant there was more night driving than ever before at the event, with nearly 15 hours of darkness. This brought tyre strategy to the fore, as teams scrambled to keep their cars in optimal competitive condition. Several chose not to change tyres during some of the pit stops to save time. Pirelli said this option underlines the durability of its latest-generation products on a track that generates maximum g-forces through its rapid corners and big compressions.
With several full course yellow and safety car periods, many teams to make their stops then in order to lose less time in the pits. Others decided to stay out during these neutralisations and prioritise track position.
Temperatures remained at around 10 degrees centigrade or below for the majority of the race, making it important to keep tyres up to temperature: especially during the numerous re-starts, on both slick and wet tyres. Pirelli's latest GT tyres have been designed to offer greater ease of use, helping teams to achieve this.
This year's 24-hour race was incredibly closely-matched, with 11 different manufacturers, most of which stood a genuine chance of winning. Throughout the race, there tended to be several changes of lead every hour, and Nick Tandy's winning margin (sharing a Rowe Racing Porsche with Earl Bamber and Laurens Vanthoor) was just four seconds over the Attempto Audi of Patric Niederhauser, Mattia Drudi and Frederic Vervisch in second, with the Dinamic Motorsport Porsche of Matteo Cairoli, Christian Engelhart, and Sven Muller finishing third.
Pirelli racing technical manager Matteo Braga said: "This was one of the most exciting but technically complex editions of the Spa 24 Hours that we can remember, with tyre choice and strategy at the heart of it. All the competitors were extremely closely matched, with the same specification of tyre on which the championship's balance of performance is also calculated.
"We were pleased with the performance of both our new P Zero DHE slicks as well as the Cinturato WH wets, which saw roughly equal amounts of running throughout the 24 hours. The intermittent rain actually made conditions much more delicate, as the track was constantly drying and changing. Despite this, the tyres performed very well, allowing the drivers to push hard under these challenging circumstances."