Liqui Moly and "cult gearhead" Edd China launch video series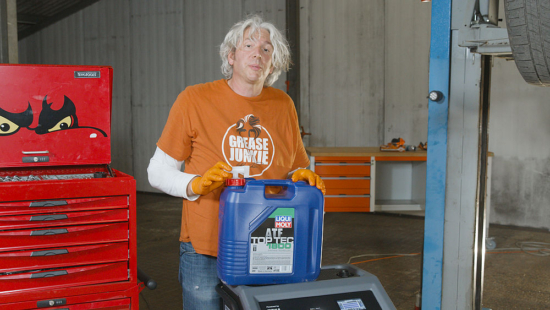 An international TV legend in the automotive sector is convinced of Liqui Moly's quality and now shares his knowledge in short social media clips: Edd China – TV presenter, inventor, gearhead and cult figure. Many people are familiar with Edd China from the TV series "Wheeler Dealers", broadcast on the Discovery Channel. Here he repaired, improved and restored old cars to a fixed budget. But he is also world famous for his YouTube videos. In these, Edd not only demonstrates his technical know-how and craftsmanship, but also embarks on unusual and entertaining projects, such as the "world's fastest sofa".
In the current video series, China will be using his own Ford Mondeo ST200, which is well-known among enthusiasts, and his Range Rover to show the simplest tricks of how Liqui Moly can not only save money but also extend the life expectancy of the car.
With some 380,000 fans on Facebook, 467,000 subscribers on YouTube and 160,000 followers on Instagram, Edd China is a strong partner. This reach is augmented by the automotive blog and Liqui Moly partner "DRIVETRIBE": Around 4.5 million fans on Facebook, 613,000 followers on Instagram and 1.49 million subscribers on YouTube make the portal an international "hotspot" for everything to do with automobiles. Injectors are cleaned with Liqui Moly products, an automatic transmission fluid flush is carried out, and a simple oil change is demonstrated.
Liqui Moly Marketing Director Peter Baumann: "We are delighted that such a likeable and authentic expert like Edd China is impressed by the quality of our products. This is where two cult brands come together to provide a broad international audience with practical tips on the functionality and value retention of their vehicles."
The weekly videos can be seen on Liqui Moly's website, on the Liqui Moly social media accounts and on all DRIVETRIBE channels.