Wheel-maker GKN launches new website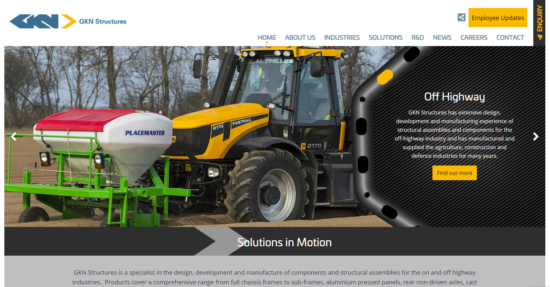 GKN Structures, the Telford-based industrial wheel manufacturer, has launched a new website. The site's new URL – www.gknstructures.com – is designed to help with google searches.
According to the company, the site has been created to provide customers with "a focused insight into the business' capabilities around large chassis, manufactured for the JCB Fastrac, Squeezeform aluminium cast wheels and composites materials and components for the automotive industry". The website also has a section looking at the services offered by the advanced engineering and test facility in Telford.
GKN Wheels and Structures (Telford, UK) is part of Melrose Industries PLC and describes itself as "the world's leading manufacturer of off highway wheels". GKN Wheels supplies the global mining, construction, industrial and agricultural industries and many of the leading international OEMs, distributors and integrators.