Volkswagen electric ID.3 tours Germany on Hankook i*cept evo 3 winter tyres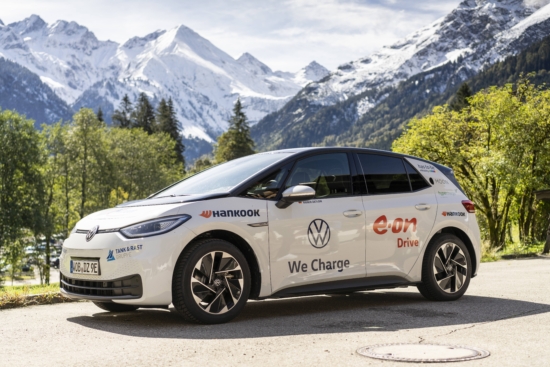 Hankook is supporting Volkswagen's 20,000km tour of Germany to test the national fast-loading network. Starting in Germany winter sports town Oberstdorf, the VW ID.3 will visit more than 600 VW dealers and charging stations on the 65-day ID.3 Germany Tour, running on Hankook's new Winter i*cept evo 3 UHP winter tyres. The tour concludes on the northern island of Sylt. The campaign vehicle fits 215/55 R18 99V XL tyres, and will be driven by Rainer Zietlow from CHALLENGE4 agency, a driver with significant experience in long-distance rides and holder of world records on all continents. He is accompanied by co-driver Dominic Brüner. VW's tour includes visits to Hankook's European headquarters in Neu-Isenburg near Frankfurt am Main and to the company's European research and development centre in Hanover.
"Our new Winter i*cept evo 3 winter tyre gets the chance to prove its outstanding characteristics during the marathon tour with the VW ID.3 across Germany during the beginning winter season. As a long standing original equipment supplier to Volkswagen around the world, we are delighted to support this challenging project together with other major automotive companies," comments Sanghoon Lee, president of Hankook Tire Europe.
The company's new winter pattern Winter i*cept evo 3 for cars and Winter i*cept evo 3 X for SUVs follow in the footsteps of its successful predecessor Winter i*cept evo 2, which was also original equipment on many premium models of European car manufacturers. The new Winter i*cept series of tyres, now in its third version, is already market available in 95 dimensions and, for the first time in the Hankook UHP winter tyre range, has a directional tread design. Europe's leading automotive magazine Auto Bild had already independently subjected the tread to an extensive performance test and awarded the Hankook Winter i*cept evo 3 with the top "Exemplary" rating.
ID.3 Germany Tour
The route the CHALLENGE4 team will take, covers all four corners of Germany and has been planned by the Institut for transport logistics (ITL) at the Technical University of Dortmund. The tour starts at the southernmost hotel of Germany on September 28th at 3 p.m and ends at the northernmost car park of Germany, west of List on the island Sylt. As well as the stops in Neu-Isenburg and Hanover, the team of CHALLENGE4 will also stop at the charity SOS Kinderdorf in Bernburg, which is going to be supported with a donation for a residential project. The marathon drive can be followed live on www.id3-deutschlandtour.com. Students of the media university (HdM) from Stuttgart will supply daily updates including photos and videos of the journey.
Other supporters of the marathon tour are: ADS-TEC Energy, Alpitronic, CAR-connect, E.ON Drive, has·to·be gmbh, Infineon Technologies, Intercity Hotel, MOON, Steigenberger Hotels & Resorts, Tank & Rast, We Charge, as well as the Volkswagen Group.