Sumitomo South Africa produces new Dunlop-branded truck tyre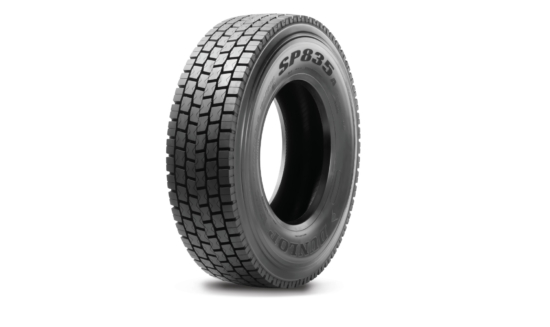 Produced at its Ladysmith, KwaZulu-Natal, South Africa truck and bus radial tyre manufacturing plant, Sumitomo Dunlop has launched a new drive-axle truck tyre. Locally researched, produced and tested, the SP835A is described as a "game changer".
"The SP835A is a big deal for both the company and the trucking industry," said Riaz Haffejee, CEO of Sumitomo Rubber South Africa, manufacturer of Dunlop tyres. "The launch of the SP835A sees the beginning of a new era where we are now able to supply a full set of locally produced tyres for the entire truck, for all positions – from Steer, to Drive and Trailer."
A premium drive-axle tyre, the SP835A was developed for improved Cost per Kilometre (CPK), high mileage in long-haul highway applications. Exhibiting even tread wear and low rolling resistance due to DECTES (Dunlop Energy Control Technologies), the tyre has been manufactured using a cut resistant compound and has a Heel and Toe resistant pattern. Better heat dissipation is achieved using base tread material in the tread construction which enhances re-treadability.
In-house field application tests on 315/80R22.5 showed best performance in the Drive application for the SP835A versus 31 competitors and 19 Dunlop tyres in three different fleets, showing an up to 18 per cent improvement on mileage.
The tyre is available sizes: 315/80R22.5 and 295/80R22.5.