Snap-On launches Apollo-D8 diagnostic tool, training module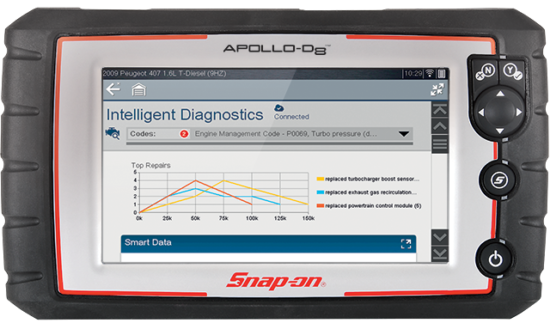 Snap-on launched its latest diagnostic scan tool – the Apollo-d8 – back in July. Now, the well-known garage equipment supplier has also released free training modules for it too.
According to Snap-on, the Apollo-D8 "uses Intelligent Diagnostics to cut out the noise and present only information relevant to the specific fault code on the specific vehicle at the specific time."
"Previously available only on the Zeus and Triton-D8 platforms, Intelligent Diagnostics software is changing the way cars are diagnosed," said Mark Ost, UK general manager for Diagnostics and Equipment at Snap-on.
Since the initial launch of the tool, Snap-on has also released a series of free online training modules to help technicians make the most of their equipment. The videos are designed to provide an in-depth look at the Apollo-D8. Broken down into different subjects and categories, the videos consist of advice and screenshots along with comment and guidance from Snap-on's team of diagnostic experts.
The full range of Apollo-D8 training modules includes:
Controls and Basic Setup Instructions
Vehicle Identification and Code Operations
Intelligent Diagnostics
Scanner Data PID View
Scanner Data Graphing View
Functional Tests
Fast-Track Troubleshooter
Global OBD-II
Quick Lookups
Previous Vehicles and Saved Data
Vehicle System Scan
Get free online training for the Apollo-D8 scan tool from Snap-on
The training modules are accompanied by Snap-on's series of Diagnostic Quick Tips features. These videos are based on real case studies and show how to apply diagnostics to specific vehicles and applications through short demonstrations of diagnostic tools to solve common problems.