Hankook looks forward to Formula Renault Eurocup 2nd half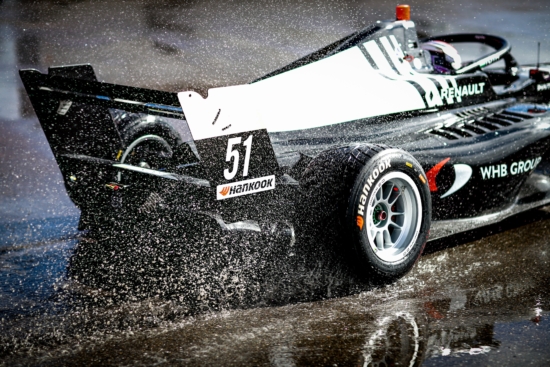 Formula Renault Eurocup exclusive tyre supplier Hankook is looking forward to the second half of the 2020 series, describing it as "one of the strongest Formula series in the world." Supplying its Ventus Race tyre since 2019, Hankook visited Zandvoort, Netherlands to mark the halfway point in the delayed 2020 season – the first time Formula Renault Eurocup has raced at the circuit since 2000. Victor Martins enjoyed three successful days at the circuit in the dunes on the Dutch coast, consolidating his position at the top of the overall standings, courtesy of a victory and a second place.
Manfred Sandbichler, Hankook motorsport director Europe: "That was a great first half of the season, with spectacular scraps and a thrilling battle between the top two drivers for the championship lead. The standard of the field is incredibly high, and the whole environment is extremely professional. It is no coincidence that the Formula Renault Eurocup is regarded as one of the strongest Formula series in the world and has produced eventual Formula 1 world champions like Lewis Hamilton and Kimi Räikkönen in the past. Hankook is proud to be supporting the 50th anniversary of this junior series with the high-end Ventus Race tyre at iconic racetracks in Europe and at the finale in Abu Dhabi."
"I was able to defend my pole position in race one on Saturday. The pace was fantastic, and I could manage the Hankook race tyre very well. In Sunday's race, the tables were turned, and Caio led from start to finish. For me, it was important to pick up points in the race for the title," explained championship leader Martins, whose advantage over his closest rival Collet is now a slender two points.
The 50th season of the junior Formula series kicked off in Monza at the start of July, and has travelled to Imola and the Nürburgring since. The Formula Renault Eurocup will also visit some prestigious racetracks in the second half of the season. Drivers, who must be at least 16 years old, will take to the track with their 300-hp Formula cars in Barcelona, Spa and at the Hockenheimring. The finale will be held from 26 to 28 November at Yas Marina Circuit in Abu Dhabi. The series has proven to be a springboard to a successful motorsport career for many drivers, including Lewis Hamilton and Kimi Räikkönen.