Dunlop Sport All Season claims 'breakthrough'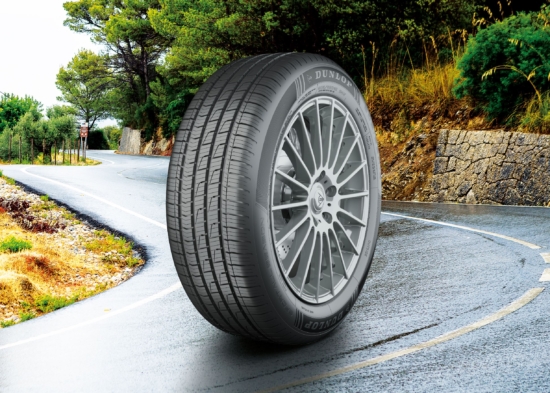 Dunlop has confirmed details of the brand's first all-season tyre, which it says 'completes' the Dunlop portfolio
Dunlop has confirmed its entrance onto the all-season tyre market. The new Dunlop Sport All Season is designed to provide performance handling across a wide temperature range. The tyre is three-peak mountain snowflake certified, for mobility in winter road conditions. The manufacturer states that the tyres is particularly suited for countries with relatively moderate winter temperatures.
"The Dunlop Sport All Season is a product that is designed to offer premium performance for mild winter climates," said Mike Rytokoski, chief marketing officer, Europe at Goodyear. "With a three-peak mountain snowflake certification, the Sport All Season will cope with all weather conditions – dry, wet, and snowy."
Dunlop's debut product for the growing all-season tyre market is optimised across a wide temperature range, offering braking on wet and slippery roads to compare with leading current market competitors. Goodyear Dunlop tested the tyre on a VW Golf VII 1.4 Tsi against the Michelin CrossClimatePlus, Pirelli Cinturato All Season Plus, Hankook Kinergy4S2 H750, and Continental All Season Contact. Dunlop also has a competitive advantage via its sister brand Goodyear. Goodyear launched the Vector 4Seasons Gen-3 recently, its successor to the Vector 4Seasons Gen-2, one of the most successful all-season tyres in terms of tyre test accolades of the latest generation of all-season tyres.
Dunlop All Season characteristics
This industry-leading knowledge helped Dunlop engineers to come up with a rib design that is a marked change of direction from the v-shaped patterns employed by many contemporary all-season tyres. The tyre has a sport-lock construction to provide exceptional handling on dry surfaces. The tyre's strong belt and overlay package support sport performance power when cornering by providing better stability.
An aqua-eject tread delivers strong braking performance on wet surfaces; its high-capacity longitudinal grooves and radial edges deliver more extensive road contact by accelerating water evacuation from the contact patch.
Finally, the Dunlop Sport All Season features a weather-flex compound that it says optimises performance under any temperature or weather condition. The multifunctional polymer blend activates rubber flexibility at a wide temperature range.
"Dunlop is proud to step into the all-season market with a product tailored to the needs of consumers, who are increasingly purchasing all-season tyres and who expect excellent wet and dry performance when doing so," Rytokoski concluded.
The Dunlop Sport All Season has a line-up of 31 SKUs to be launched starting in October 2020, with sizes ranging from 14 to 18 inches.