Davanti Tyres sponsors Larne FC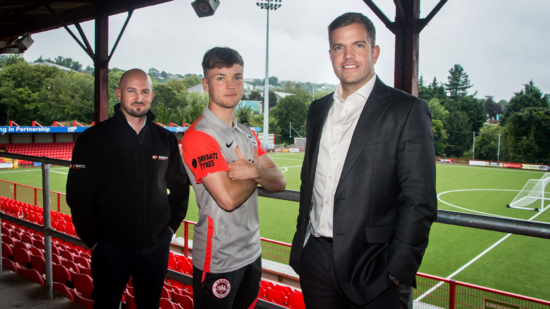 Davanti tyres will be Larne FC's sleeve sponsor for the 2020/21 campaign as the Irish Premiership side set their sights on qualifying for Europe. It is Davanti's first major sports sponsorship in Northern Ireland.
Davanti reports that, since it released its first tyres in 2015, the company has built up "an extensive network of dealers across Northern Ireland". The Larne FC partnership underlines the continued importance of Northern Ireland to Davanti as the club joins their international family of brand partners.
Sean Maddocks, Davanti sales director for the UK and Ireland, said Davanti was excited to support the Larne FC project:
"We recognise the work that Larne FC are doing to realise their ambitions both on the pitch and in the community. Northern Ireland is a really key market for us and we're extremely proud of the loyal dealer network we've created." he said, adding:
"Larne's commitment to building a successful football club while also using their platform to create opportunities for the wider community resonates with our core principle to support independent tyre retailers and garages. We believe our shared values will make Davanti's partnership with Larne a great success."
Larne FC Chairman Gareth Clements said: "We worked very hard during lockdown, to cast our net a little wider in attracting some new, fresh and vibrant commercial partners to Inver Park. The fruits of this labour are now bearing results, this is testament to the positive work everyone at Larne Football Club has put in over the last few seasons, to build a recognisable brand both on and off the pitch.
"Officially unveiling Davanti Tyres today as a new commercial partner for the 2020/2021 season is another giant step forward for the club and one we are really proud of. It has been fantastic to see Davanti's incredible international growth over the past three years, through their partnership with Everton Football Club. I trust the benefits of partnering with Larne Football Club will soon become apparent as we embark on the next leg of our exciting journey together.
"We aspire for longevity in all of our partnerships and I see today as the start of a long and mutually beneficial enterprise together. I would also like to thank Gordon McKay at G-MAC Tyres for facilitating the introduction to Davanti."
Despite the issues caused by COVID-19, Davanti further reports that the brand has extended its distribution network to more than 60 countries across five continents.
During the next 12 months is expected to launch its new UHP tyre, the Protoura Sport, as well as a new all-season Alltoura, offering and an extension to the Terratoura All-Terrain range.