BMW approves Hunter RoadForce Elite wheel vibration diagnostics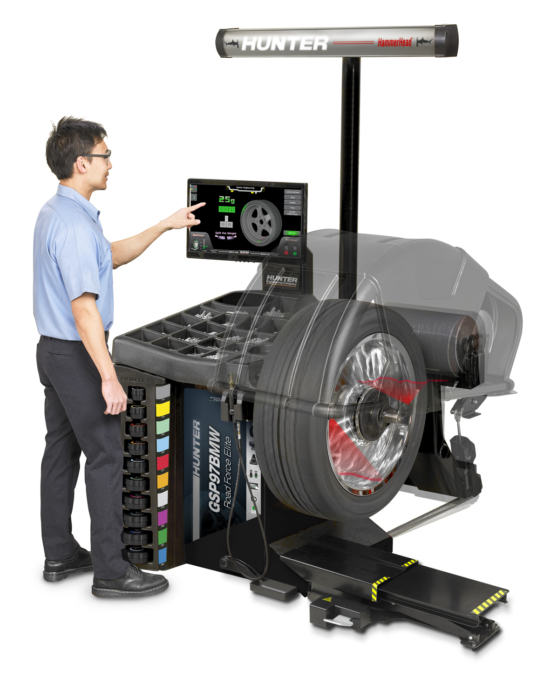 BMW AG has approved the Hunter RoadForce Elite (RFE) diagnostic wheel balancer in its global workshops. The system, distributed in the UK by Hunter partner Pro-Align, simulates the forces of the tyre on the road to match more accurately running conditions, and therefore increase ride comfort. The system is also designed to increase efficiency, helping to resolve the most challenging wheel vibration issues.
"We are delighted that BMW has become that latest premium vehicle manufacturer to approve the Hunter RoadForce Elite diagnostic balancer for use in its dealerships around the world," comments Clive Seabrook, CEO, Pro-Align, the exclusive UK distributor of Hunter workshop equipment. "The intelligent system helps dealers provide drivers with improved ride comfort, but equally importantly, it's incredibly easy to use, faster than a traditional wheel balancer and with the addition of SmartWeight, even helps dealers reduce their use of balance weights to a minimum. It really is a win-win situation for BMW dealers and drivers alike."
Hunter says its RoadForce balancing solution helps to maintain "OEM quality ride comfort levels." It adds that this could become more important as potholes and poor road surfaces, common causes of wheel vibration issues, proliferate. The system is designed to offer improved accuracy and customer satisfaction, leading to fewer return visits to garages to address irritating vibration issues.
The RFE differs from standard balancers as it measures tyre forces, known as Road Force Variation (RFV) and Lateral Force (LF) to conduct a full diagnostic of the wheel and tyre assembly. It achieves this by scanning the wheel rim and applying a load roller to take the wheel and tyre assembly on a simulated road test.
Once RFV is identified, the balancer provides a 'ForceMatching' recommendation which matches the tyre's stiff spot with the wheel rim low spot, minimising any vibrations to give a smoother ride. Using the RFE's StraightTrak feature, the system even advises of the best position on the vehicle to ensure a straighter drive.
Furthermore, the new 'vision' rim scan technology, which is only available on the RFE, means balance weights can be placed more effectively for a more accurate and aesthetically pleasing solution. The latest RFE supersedes the popular and previously approved RoadForce Touch diagnostic balancer. Hunter says the new machine reduces balance and repair times by a further 35 per cent to less than two minutes per assembly.
"BMW cars enjoy an enviable reputation for premium quality and premium levels of ride comfort. The RoadForce Elite is a premium system of a similar ilk, and therefore the perfect addition to both BMW workshops and any others looking to provide their customers with the very best levels of service, care and attention," concludes Seabrook.