Australia's National Tyre & Wheel grows through Tyres 4U acquisition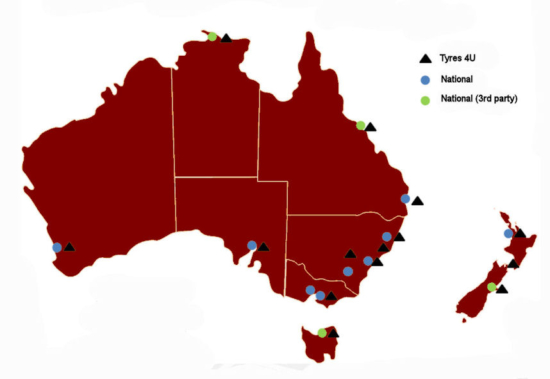 With its AU$48.7 million (£26.7 million) acquisition of Tyres 4U assets in Australia and New Zealand, National Tyre & Wheel becomes one of the region's largest tyre wholesalers and the largest independent, multi-branded wholesaler in both countries. The transaction was finalised in August and more than doubles National's distribution centre footprint in the two countries, with its nine company-owned and four third-party facilities complemented by 11 Tyres 4U centres in Australia and three in New Zealand. Combined tyre volume for the Australian financial year ending 30 June 2020 exceeded 2.5 million units, with a revenue of $450 million (£247 million).
"Everyone at T4U and NTD is extremely excited about this transaction and the opportunities it presents to better serve the interests of all our stakeholders – employees, customers, suppliers, shareholders, and our communities," stated Peter Ludemann, chief executive officer of National Tyre & Wheel. "I have no doubt that this transaction will allow T4U to offer better solutions and services to suppliers and customers as we navigate our way through the very challenging pandemic period."
Due to the two business's differing positions within the market, they share no common suppliers. National Tyre & Wheel purchased Tyres 4U to give it access to segments of the industry in which it previously had little or no presence, specifically truck & bus tyres, forklift and other industrial tyres, agricultural and OTR tyres. The arrangement also brings National's strength in the 4×4 to the newly-acquired operation.
The Tyres 4U management team have been retained in National's new structure. The Board of Directors of the subsidiaries formed for the acquisition are comprised of National and Tyres 4U's respective chief executive officers, Peter Ludemann and Les de Celis, together with National's Bill Cook and Robert Kent. No changes have been made to National's management or its board.
No significant overlap
"Some years ago, I met with Peter Ludemann and others from NTD to discuss the prospects of a merged T4U and NTD business," shares Les de Celis. "We were very enthusiastic back then about the benefits we could deliver to suppliers and customers with an abundance of complementary skills in our teams and no significant overlap of products or suppliers. Changes in the industry since then have only made the case for getting together more compelling and we are extremely excited to join forces with NTD."
"The purchase of T4U is testament to the power of belief and persistence," adds Peter Ludemann. "When we first met, we were struck by the fact that, despite each being tyre wholesalers for more than 25 years, we did not bump into each other in the marketplace. Different business models, different products and different routes to market made it immediately obvious that everyone could benefit from getting together, without disturbing our core businesses or values. I'm really pleased to have found a way to do that – even though the tyre industry has proved to be resilient over the past few months, there can hardly be a better time to turn diversity and scale into a better outcome for our suppliers, customers, people and shareholders."
Tyres 4U was established in 1990 and at the time of acquisition employed more than 450 people. In addition to operating wholesaling centres in Australia and New Zealand, it is engaged in the tyre retail business in Australia via 32 company-owned and 34 franchised Tyreright outlets.