Vipal congratulates Croatia's Gumiimpex on 50th anniversary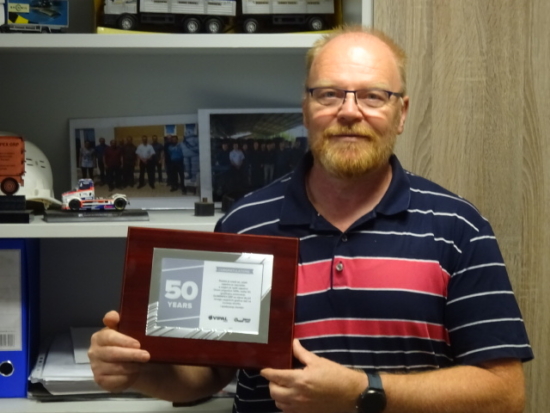 The largest tyre retreader and distributor in Croatia is celebrating 50 years in business. Located in the city of Varaždin (81 km from the Croatian capital, Zagreb), Gumiimpex's achievement was recognised by retreading materials manufacturer Vipal Rubber, which has supplied the firm since 2010, with a plaque in recognition of the milestone. Presenting the plaque to Gumiimpex, Vipal said it recognises the importance of building a history; it has almost 47 years on the market itself.
Besides working with tyre retreads, Gumiimpex has developed its main business with rubber products, distributing lines from the main world tyre manufacturers in the local market for private vehicles, commercial trucks, buses and large machines. It also recycles car tyres waste, being the first company in Croatia to carry out this type of sustainable action, which has the main objective of reducing the harmful impact on the environment by reusing the valuable properties of rubber in areas such as construction, infrastructure, transport, agriculture and others. Meeting the demands and needs of the market, Gumiimpex expanded the technical maintenance services of industrial plants, operating together with large companies in Europe.
Gumiimpex also has important certifications. One of them is the international standard ISO 9001, adopted by the company in 2014 and which encourages the adoption of technical standards that establish a quality management model for organizations. Together, ISO 14001 was introduced as an integrated quality and environmental management system. In 2016, they adopted IATF 16949, the ISO technical specification that aims to develop a quality management system that allows continuous improvement, emphasizing the prevention of defects and the reduction of variations and waste in the supply and production chain of the automotive industry.
Vipal's tribute plaque was received by Damir Telebuh, manager of the tyre retreader company. "In the name of Mr. Damir Kirkic, owner of Gumiimpex, as well as on my own behalf, I would like to thank Vipal for their congratulations and wishes for the future of our company. Vipal has been a valuable partner of Gumiimpex for almost 10 years and we hope that in the future, this cooperation will continue and develop for the progress of both companies."
Fabrício Nedeff, Vipal's commercial manager in Europe, emphasises the importance of the partnership with Gumiimpex. He said it is fundamental for the brand's presence in the Croatian and Eastern European market. "For us, it's a very important partnership because it's a very strong and professional multi-brand group." Nedeff points out that 10 years ago, when he first visited Gummiimpex, he set himself the goal of working with serious, high-level companies like the Croatian retreader. "Today, we celebrate with them this very important date, hoping to be able to celebrate more together," he adds.