NTDA cancels 2020 Conference, Annual Dinner, Awards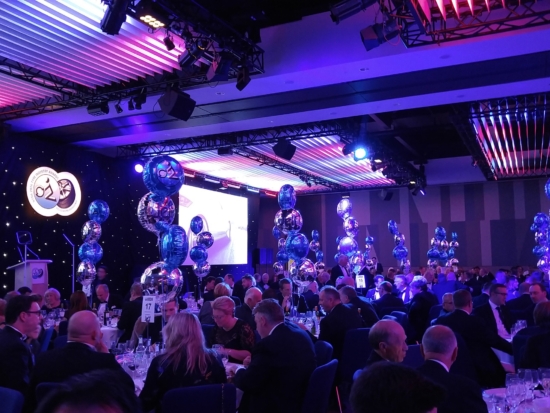 The NTDA has cancelled the 2020 Tyre Industry Conference, Annual Dinner and Tyre Industry Awards. The event was scheduled for Thursday 5 November at the VOX Conference Centre Birmingham. It is the first time the annual dinner has been cancelled since its first edition in 1930. NTDA chief executive Stefan Hay said that the decision had not been taken lightly. It was initially hoped that the event would go ahead as per the government's scheduled restart date for business events of 1 October, and is a reminder that the Covid-19 situation continues to overshadow UK business planning. The 2021 Tyre Industry Conference and Annual Dinner and Awards is scheduled to take place on 7 October in Birmingham.
Hay released a statement giving further details of the 2020 event's cancellation: "It is with regret and much sadness, that I must confirm that following discussions with the VOX Conference Centre Birmingham and subsequent discussions with the national chairman and executive officers of the NTDA, a decision has been made to cancel the 2020 NTDA Tyre Industry Conference and 91st Annual Dinner and Tyre Industry Awards.
"As has been widely reported throughout the last six months, the NTDA has remained positive with a view to delivering the quality event our members and the wider UK tyre industry have become accustomed to, but late yesterday it become unfortunately apparent, that the social distancing, safety and hygiene restrictions imposed by the Government would have made it impossible for the event to be viable, even with the drastically reduced attendance numbers the we had decided on.
"As you can imagine, we have not made this decision lightly and the NTDA team is devastated as are many of our sponsors, exhibitors, speakers and guests who were all looking forward to getting together and celebrating what our industry has achieved this year despite the adversity it has faced.
"The NTDA Annual Dinner now widely acknowledged as the absolute highlight of the tyre industry event calendar, regularly attracts in excess of 600 guests and has been held continuously since 1930. It was even held, albeit as a smaller event, throughout the WW2 years, so this will be the first time it has been cancelled in the Association's 90-year history, so it is almost unbelievable that a virus has achieved what a world war couldn't.
"Unfortunately, this also means that the 2020 Tyre Industry Awards will not be taking place this year, which for those companies working on award entries will also come as another blow.
"The 2021 Tyre Industry Conference and Annual Dinner and Awards are now scheduled to take place at the extremely popular International Conference Centre (ICC) in Birmingham on Thursday 7th October 2021 and my team and I truly hope that members and other tyre industry professionals will support the Association in what I pray will be an even bigger and better event in a more positive and happier year for us all!"