2nd BKT-sponsored TOTY episode focuses on automated driving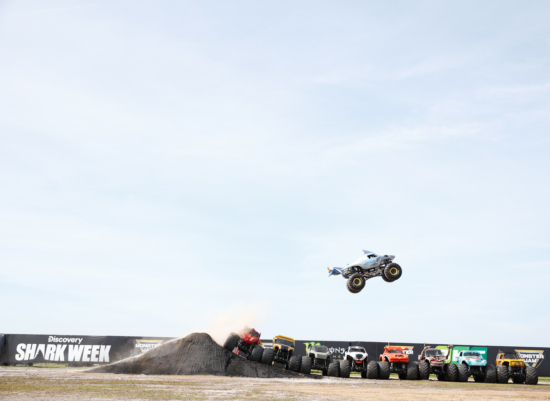 The second BKT-sponsored Tractor of the Year digital episode has been published. Having looked at connectivity, the new focus is now on the driving experience and how it is becoming increasingly automated.
Carlo Bellati, editor of the Italian car magazine Quattroruote and Adam Anderson, official Monster Jam driver (the made in USA motor show sponsored by BKT) joined the broadcast along with Antonio Giovinazzi, the Italian Formula 1 driver.
While modern-day cars are increasingly automating driving tasks, Monster Jam drivers do everything by themselves, "encapsulated" in their cabin: "Here we are in a parallel world – stressed Adam Anderson, driver in the Monster Truck team, Grave Digger. "Safety and control are the most important characteristics in my driving experience. For us stuntmen safety means being able to count on a vehicle which is completely perfect in the smallest detail, from the engine to the tyres. Over recent years we have perfected the Monster Trucks, also thanks to the support of BKT researchers who have designed the best possible tires for us, real giants that can take us to the limits, but in complete safety and comfort, to offer the best motor show in the world."
Safety technology is also the theme of Antonio Giovinazzi, the Italian Formula 1 driver who tells the tale of the total digitalization of the data which comes in and out in real time while driving a Formula 1 car: "An extremely sophisticated drive, which you must make an effort to adapt to, but we would never have got to this level of driving perfection in terms of performance without a fully computerized cockpit."
"The choice to focus above all on the manufacture of high performance, off-highway tyres entails detailed research work –Lucia Salmaso, CEO of BKT Europe commented. The need to create a specific design depending on the terrain so as to adapt tyre pressure for each task at hand presents us as manufacturers with complex research demands. We now have the task of guaranteeing the greatest possible control of the vehicle, to make it work with utmost efficiency, while respecting the comfort and safety of the driver. The dialogue between users and manufacturers is thus becoming incredibly important in order to achieve the required level of performance. We will soon see self-driving tractors, but the concept is still the same, data exchange, albeit digitally based, will be our best route to growth."
Self-driving tractors seem to be a concrete and imminent reality, completely overturning the experience of driving a tractor, which it will probably be possible to drive using a remote control or an app on a tablet or smartphone.
Those dealing with Agriculture 4.0 already know this, but many will be surprised to learn that the self-driving tractor will be available in the field before any other conventional vehicle on the road.