Hella partners with Porsche to prevent aquaplaning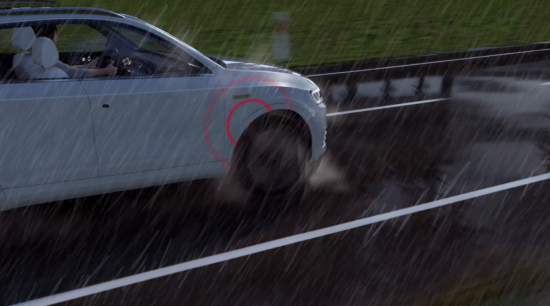 A common concern for motorists when driving in wet conditions is aquaplaning, when the car begins to lose traction and glide on the road with the resulting loss of control, especially when on fast roads such as motorways and dual carriageways.
As a result, Hella, the lighting and electronics expert, working in conjunction with renowned manufacturer Porsche, has put its wetness detection function into series production and is supporting the world premiere of 'Porsche WET-Mode'.
This detects moisture on the road surface and, as a preventive measure, adjusts the driving systems accordingly to ensure a more stable driving platform.
For this wetness detection, a structural health and knock emission (SHAKE) sensor from Hella has been incorporated into the front wheel arch liners on the new Porsche 911, which identifies the condition of the road and detects if there is a film of water on the surface and if the systems need to adjust to ensure the vehicle is safe.
As a market leader in the field of advanced driver assistance systems (ADAS), Hella has further developed SHAKE technology. This supplements existing assistance and safety systems, which means it allows the vehicle not only to "see" its surroundings via radar and camera systems, but to also "feel" them, covering the invisible areas ADAS does not detect. Using a piezoelectric element, the SHAKE sensor detects vibrations and airborne noise from water droplets swirled up in the air and determines the degree of wetness between tyre and road.
So, if the system detects a wet road, the Porsche Stability Management (PSM) and Porsche Traction Management (PTM) will be preconditioned, the driver will receive a warning and the recommendation to switch to WET-Mode. Various systems, such as the response behaviour of the power unit will also adapt to ensure maximum driving stability.
In addition to the SHAKE sensor, Hella has also supplied a number of other products for this vehicle, including interior lamps, body control modules and accelerator pedal sensors to the Porsche 911, which has been available to customers in Europe since spring 2019.