VT Truck tool software update includes 30 CV TPMS sensors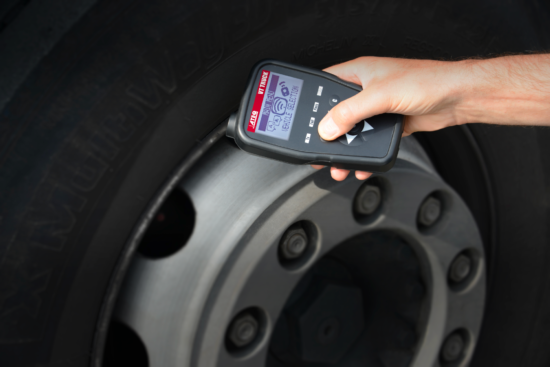 The Ateq VT Truck – the smart heavy-duty vehicle TPMS maintenance tool for dealerships, multi-brand workshops, fleet managers and hauliers, offered by Tyresure Ltd now includes 30+ truck, bus and trailer sensor combinations.
The VT Truck offers a suite of functions specially designed for TPMS maintenance in European trucks and buses. According to Tyresure, this tool can read TPMS sensor data, including twin wheels and can handle up to 26 wheels per vehicle. Compatible with the majority of trucks and buses with TPMS (original and retrofit), it can be easily updated with the data for new vehicles when they come onto the market.
It also hosts a twin wheel feature, allowing the tool to easily activate sensors in twin wheel configuration, where sensors are either placed very close to each other or difficult to reach inside the wheel arch.
Specifically the tool activates TPMS sensors for vehicles including the following buses, trucks and trailers:
DAF Trucks, EvoBus, Fruehauf, Haldex, Iveco, Irizar, Krone Trailers, Leyland Trucks, Lion's Coach, Neoplan, MAN, Mercedes-Benz Trucks, Mitsubishi Fuso, Nova Bus, Prevost, Setra, Scania vehicles, Schmitz Cargobull trailers, Van Hool coaches as well as the Volvo Bus 9700.
New VT Truck tools products shipping from the factory will include the software upgrade.
Existing ATEQ VT TRUCK customers can get the software upgrade for free by downloading it from www.ateq-tpms.com/downloads.