TireTech introduces patented tyre examination system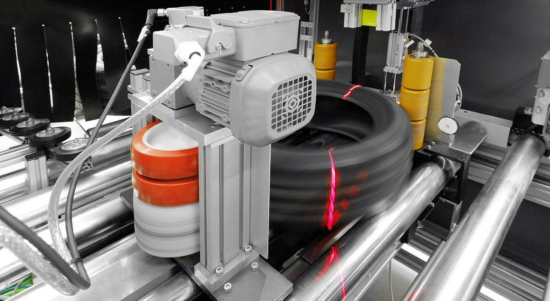 TireTech GmbH isn't known to many in the tyre market, as Bernhard Brain and Karl Staudinger only set up the company last year. The two founders, however, each boast 25 years of professional experience and are experts in mechanical engineering and automation. The German company is now presenting an automated solution to grade used tyres for reuse or disposal: The new and already patented, modularly configurable TP1 with Tire Measurement Reporting System (TMRS) can examine up to 400 used car tyres per hour and – according to customer specifications – sort and dispatch these for further application, such as retreading. With this solution, Brain and Staudinger claim they've finally "brought automation to arbitrary, manual car tyre testing."
TireTech GmbH aims to position itself within the used tyre disposal sector "as an innovative and agile company with high-quality special machinery." The founders say their company is the first to "offer an automated solution to qualify the disposal or reuse of used tyres." They view specialists in end of life tyre disposal as the main target group for their TP1 plant. In addition to "individual and personal customer care," the "complete automation of quality inspection for used tyres, sorting these according to individual specifications, and the documentation and registration of events" lies at the core of TireTech's offer.
The globally-patented innovation is characterised by several key features:
environmental friendliness thanks to significantly higher reusability of old tyres
savings in personnel costs
registration and marking of tested tyres
adaptability of equipment configuration to individual operator requirements
fast examination process and high hourly throughput.
The two founders explain that the idea to automate the sorting and classification of used tyres arose from "thinking through an inquiry" made by a potential customer. The problem they needed to solve related to quality control for metal parts used in car production. Brain and Staudinger developed a solution for this and, "as is often the case, our thoughts kept turning." They continue the story: "During a refuelling stop somewhere on the motorway, the question arose – what happens to the old tyres from our cars? Disposal, recycling, testing, retreading, casings…That was the fundamental impetus for the development of this new machine."
The new TP1, which is "produced in Germany according to German quality standards," can be configured individually as well as modularly, and is easy to install and operate. It can not only be employed to examine up to 400 old car tyres with rim diameters between 14- and 21-inches (cycle time eight to 11 seconds), but can also cut personnel costs for used tyre quality control by up to 75 per cent. Last but not least, the company promises that the TP1 will enable recyclers to reuse more old tyres than is the case when employing conventional testing.
Via the system control, the operator can define or change the TP1's sorting selection settings before starting or even while the process is running. Tyres can be sorted according to make, tread depth, size, tread pattern, DOT, ContiSeal, snowflake symbol, TWI and/or damage, with the data determined by SmartRay-Ecco-3D camera image evaluation. After the test has been performed, the passenger car tyres are transported to their respective containers in accordance with the sorting selection and then sent to their destinations.
According to TireTech, the investment volume for the base system is around 240,000 euros. Further applications are possible: "If market demand exists, we are also able to offer a system with our TMRS for truck tyres."