The Parts Alliance to run Petronas oil promotion in June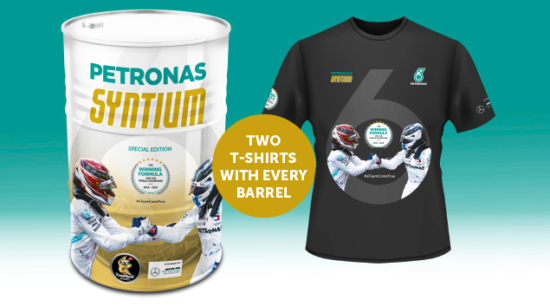 The Parts Alliance will supply two popular Petronas Syntium oil grades in limited edition Formula One 200 litre barrels. The June promotion celebrates the six consecutive Formula One World Championships won by the Mercedes AMG Petronas F1 Team, with an eye-catching barrel design.
For every special edition barrel purchased, garages will later also receive two free t-shirts, commemorating the team's sixth F1 World Constructors' Championship in 2019.
Petronas Syntium is an official technology partner of the Mercedes AMG Petronas F1 Team. The oil technologies developed and the experience gained in the world's premier motor racing category have enabled the development of the premium engine oils UK garages now benefit from too.
The two Syntium oil grades included in the promotion are the 5000 DM 5W-30 and 7000 E 0W-30.
"We already know how highly our garages customers regard Petronas Syntium," said Simon Moore, head of marketing at The Parts Alliance. "We have no doubts the barrels and t-shirts will provide a real added incentive so we urge garages to buy early and not miss out."
Petronas has become an established presence in the United Kingdom. Since arriving in 2008, The Parts Alliance says the brand has enjoyed strong growth. The Parts Alliance announced in January 2020 a long-term partnership with Petronas Lubricants International as its supplier of premium oil.
The special edition barrels will be available in June from all members while stocks last.