Polish tyre repairs distributor opens online channel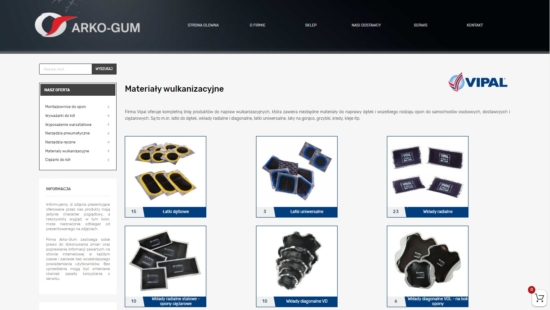 Arko-Gum, the Polish distributor of Vipal's line of tyre repair products has launched a new e-commerce website. The company said the new site is "a way of increasing contact with its target audiences and overcoming social isolation," The website targets B2B sales of its product lines, including the full range of materials from Vipal's repair line. Arko-Gum has been Vipal's partner for 10 years, nine of which have been exclusive.
According to Arkadiusz Stepien, owner of Arko-Gum, the "introduction of the B2B sales channel allows our customers to place orders without leaving their homes, and this is a great solution to increase sales, especially during this pandemic when it is so important to maintain social distancing."
Vipal says the site reflects the success of this decade-long partnership. "We know that our brand is taken to the four corners of Poland with the seriousness and professionalism that both we and Arko-Gum value," says Michal Baxa, Vipal's commercial representative in Europe. "This is another step in Arko-Gum's activities for Vipal brand´s growth in the Polish market, and we are very satisfied with that. Certainly, this is a union that we will keep investing in so that it continuously grows."
Through Arko-Gum, Vipal has offered the Polish market a complete line of vulcanization repair products since 2010. These include materials needed to repair inner tubes and all types of tyres for cars, vans and trucks, such as tyre repairs, adhesives, protectors, vulcanization cements, patches, repairs, sealants, among others.