PCL invests in new electronic testing and development facility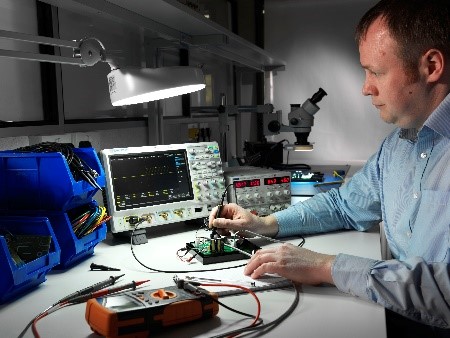 Led by Senior Electronics Development Engineer, Michael Crookes, the introduction of the new electronic testing facility and role will "enable PCL to test and develop electronic products in-house at its state-of-the-art Sheffield HQ", according to the company.
The dedicated lab houses general electronics test and measurement equipment, including oscilloscope and logic analyser, waveform generator and precision digital multi-meter; along with soldering equipment, zoom microscope and hot air rework station.
Steering these latest advancements at the helm of a new hi-tech lab over 80 years after PCL's founding, is a welcome prospect for Michael Crookes, who will join the Senior Management Team in developing strategy for its in-house operation.
Coming from a scientific instrumentation background in laser manufacturing and electrochemical microscopes, Crookes sees this as a huge opportunity for PCL to take its existing product platform to another level and explore other compressed air markets, allowing him to take a hands-on role in product enhancement.
He said: "PCL has an exceptionally skilled workforce who are experienced in developing ground-breaking products for all applications and level of activity. Bringing electronic testing and development in-house gives us the capability to advance existing ranges and create new digital ones in relation to market trends and client needs. It also enables us to work on projects involving minor changes, such as tailoring existing products to meet specific customer requirements through bespoke configuration, for example a particular type of payment system for a forecourt inflator.
"These are exciting times for PCL and its customers who can continue to rely on PCL for future-proof, world-leading products from a tried and trusted brand."
Sales director, Simon Shorter, said: "Investing in such a highly advanced, in-house facility is a pivotal move for PCL, and Michael is the perfect candidate to lead on electronic development. His technical expertise coupled with a hands-on approach means he fully understands customers' exact needs and how to meet them, whilst our new lab provides the capability to oversee projects and develop advanced products in-house. These are indeed exciting times for both the PCL brand and our customers across the globe."