Michelin, Conti "well positioned" for market change: Goldman Sachs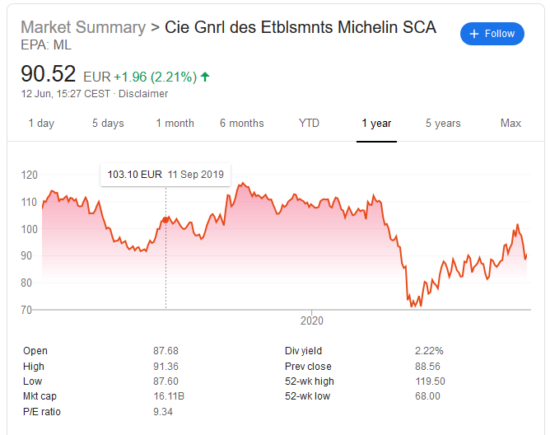 Michelin and Continental stocks are rising, despite the severe impact of the coronavirus pandemic and governmental lockdowns on demand. US investment bank Goldman Sachs today raised the target price of shares in the two manufacturers, rating Michelin as 'Buy' and Continental as 'Neutral'. In his two research notes, Goldman analyst George Galliers increased Michelin stocks' target price from 91 euros to 113 euros, and Conti's from 75 euros to 92 euros.
As Tyrepress sister site Reifenpresse.de explains, Continental AG's share price bottomed out at 55 euros on 18 March, recovering significantly to reach close to 100 euros at the beginning of this week. A corresponding analyst report on Conti explains that the positive effects of easing lockdowns has meant faster than expected economic improvements. Companies that have led the change to electrification, have a solid balance sheet, and attractive cashflow are well-positioned, which goes for both tyre giants. Though to put this in perspective, Conti's share price in January 2018 was 250 euros.
In May, Conti told Tyrepress that it is "intensively" monitoring European tyre demand in order to review its production. This week, the German business magazine WirtschaftsWoche reported Conti CEO Elmer Degenhart's comments that the probability of "forced layoffs is very, very high." The company estimates that it will need to save three-digit millions of euros as a result of the effects of the pandemic.