Halfords Autocentres launches car collection service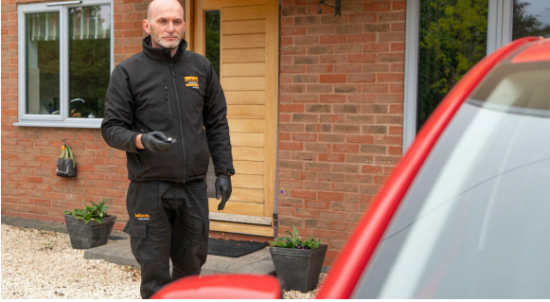 The £19.99 service is available within five miles of 215 selected Autocentres – full list below
Halfords Autocentres has launched a car collection and delivery service. Running from 215 of its garages across the UK, the service is available alongside service or MOT with a service bookings. The service means staff at the Autocentre will collect the car from your home and return it when work has been completed. The company is charging £19.99 for the service.
Customers must book the service over the phone and ensure their vehicle is parked in a suitable location. They will also need to hand over their keys while observing the latest social distancing measures. All technicians will wear a new pair of disposable gloves and sanitiser for each job. They will then perform a damage inspection check on the vehicle.
Before entering the vehicle, they will open the car doors and windows for five minutes to make sure that it is sufficiently ventilated. They will then fit the car with a protective car care kit including a seat cover, floor mat, steering wheel cover, gear leaver and hand brake wrap to ensure that each job is carried out as safely as possible.
After performing the service or MOT with a service, the car will then be returned to the customer at their home address.
Dave Scollard-Kerr, Halfords Autocentres central operations director says:  "By introducing a car collection and delivery service, we believe we are giving customers affected by the lockdown the flexibility and convenience they need in these challenging times. It means motorists can still have an MOT or service without having to leave their home."
215 Halfords Autocentres where the collection service is available
| | |
| --- | --- |
| | Post Code |
| Aberdeen | AB11 8HX |
| Aberdeen | AB24 5TT |
| Acton | W3 8HH |
| Aldershot | GU11 1JG |
| Altrincham | WA14 5DX |
| Andover | SP10 3BE |
| Ashford | TN24 0SP |
| Aylesbury | HP19 8DB |
| Banbury | OX16 2RL |
| Barking | IG11 7BG |
| Barnsley | S70 3NS |
| Barrow-in-Furness | LA14 2NE |
| Basingstoke | RG21 8BJ |
| Bath | BA1 3EH |
| Bedford | MK40 1QH |
| Bedminster | BS3 3PZ |
| Bicester | OX26 4LD |
| Blackburn | BB2 3DY |
| Bolton | BL2 1HE |
| Borehamwood | WD6 1FX |
| Bracknell | RG12 1RW |
| Braintree | CM77 8YL |
| Bridgend | CF31 3ND |
| Bridgnorth | WV16 5BH |
| Bridgwater | TA6 4DB |
| Brighton | BN1 4GD |
| Bristol, Downend | BS15 1SE |
| Bristol, Filton | BS34 7JU |
| Bristol, Longwell Green | BS30 7ET |
| Byfleet | KT14 7FF |
| Camberley | GU15 3EJ |
| Camborne | TR15 3PS |
| Cambridge | CB1 7EA |
| Cannock | WS11 0NH |
| Canterbury | CT2 7PX |
| Cardiff, Newport | CF24 1RN |
| Carlisle | CA1 2EA |
| Catford | SE6 2NZ |
| Charlton | SE7 7SJ |
| Cheadle | SK8 2DP |
| Chelmsford | CM2 6JZ |
| Chelmsford | CM1 3AG |
| Cheltenham | GL51 9NB |
| Chester | CH1 5EY |
| Chesterfield | S40 3DL |
| Chichester | PO19 8NY |
| Chingford | E4 8QF |
| Cirencester | GL7 1YQ |
| Colchester | CO1 2UZ |
| Congleton | CW12 1LJ |
| Cotteridge | B30 3AS |
| Coventry | CV1 4NU |
| Crawley | RH10 1SS |
| Croydon, Stafford | CR0 4TU |
| Darlington | DL3 7BJ |
| Dartford | DA1 5AJ |
| Derby, Wyvern | DE21 6NZ |
| Doncaster | DN5 9AN |
| Dover | CT16 3PT |
| Eastbourne | BN23 6PJ |
| Eastleigh | SO50 9NA |
| Edinburgh | EH6 7LD |
| Erdington | B24 9QB |
| Evesham | WR11 1DJ |
| Exeter | EX2 8NU |
| Fareham | SO31 6AF |
| Feltham | TW13 7LW |
| Finchley | N3 1RJ |
| Folkestone | CT20 2SY |
| Gateshead | NE11 0HL |
| Gateshead | NE11 9YS |
| Glasgow | G73 1SX |
| Gloucester | GL2 5DH |
| Gloucester | GL1 3AB |
| Gloucester, Eastern Avenue | GL4 4LP |
| Grantham | NG31 6HS |
| Grays | RM17 5QL |
| Great Yarmouth | NR31 0NL |
| Guildford | GU2 7YB |
| Halesowen | B63 3HJ |
| Halifax | HX1 1SN |
| Harrogate | HG1 1BA |
| Harrow | HA1 4TR |
| Havant | PO9 1JH |
| Hayes | UB2 5YG |
| Hemel Hempstead | HP2 7BW |
| Hendon | NW9 6JX |
| Hertford | SG13 7EW |
| High Wycombe | HP11 2SF |
| Holloway Head | B1 1QP |
| Horsham | RH12 3TQ |
| Hounslow | TW3 3LL |
| Hove | BN3 7EE |
| Hull, Great Union Street | HU9 1AB |
| Ilkeston | DE7 8DG |
| Ipswich | IP1 1UZ |
| Isle of Wight | PO30 5UX |
| Kettering | NN16 8DB |
| Kidderminster | DY11 7BG |
| Kings Lynn | PE30 1NS |
| Kingston-Upon-Thames | KT2 6NH |
| Leeds | LS11 9BX |
| Leicester | LE1 7AT |
| Lichfield | WS14 9UX |
| Lincoln | LN6 7AN |
| Liverpool, Aintree | L9 5AW |
| Llandudno | LL30 1ED |
| Llanelli | SA14 9UZ |
| Loughborough | LE11 5HG |
| Lymington | SO41 8JU |
| Maidstone | ME15 6HE |
| Manchester | M22 4ET |
| Manchester | M8 8DY |
| Manchester | M32 0QW |
| Mansfield | NG18 2RA |
| Middlesbrough | TS6 6UR |
| Middleton | M24 1QZ |
| Milton Keynes | MK6 1BU |
| Mitcham | SW17 9HP |
| Morden | CR4 4DG |
| Newark | NG24 2ET |
| Newbury | RG14 5PF |
| Newcastle | NE6 1JX |
| Newcastle | NE4 7JL |
| Newport | NP20 2AB |
| Newton Abbot | TQ12 3BN |
| Northampton | NN5 5HU |
| Norwich | NR1 1QU |
| Norwich | NR2 4TQ |
| Nottingham | NG1 3NB |
| Nottingham | NG15 6EP |
| Nottingham | NG8 5AS |
| Nuneaton | CV11 4BH |
| Oldbury | B69 1DT |
| Orpington | BR5 3RN |
| Oxford | OX4 6NU |
| Paisley | PA3 4BA |
| Park Royal | NW10 7NB |
| Penzance | TR18 3RG |
| Perry Barr | B42 2UB |
| Peterborough | PE1 5UX |
| Plymouth | PL6 5JN |
| Plymouth | PL4 0AS |
| Pokesdown | BH7 6PL |
| Pontypridd | CF37 4DA |
| Poole, Ringwood Road | BH12 3JN |
| Portsmouth, Fratton Rd | PO1 5EZ |
| Rayleigh | SS7 3TN |
| Reading, Tilehurst | RG30 6BX |
| Redditch | B98 8DU |
| Redhill | RH1 2LH |
| Rotherham | S62 6FP |
| Ruislip | HA4 0SA |
| Salisbury | SP2 8AA |
| Sandhurst | GU47 9DB |
| Scarborough | YO12 4DH |
| Scunthorpe, Doncaster Rd | DN15 7RG |
| Sevenoaks | TN14 5LJ |
| Sheffield, Crystal Peaks | S20 7JL |
| Sheffield, Saville Street | S4 7WW |
| Sheldon | B33 0QX |
| Shirley | B90 4LD |
| Shoreham | BN43 6RJ |
| Shrewsbury | SY1 4YA |
| Sidcup | DA14 5AF |
| Sittingbourne | ME10 3DY |
| Slough | SL1 4UN |
| Southampton | SO15 0JZ |
| Southend on Sea | SS2 5PF |
| Southfields | SW18 5JS |
| St Austell | PL25 5BU |
| Stafford, Grayfrairs | ST16 2SD |
| Stafford, Lichfield | ST17 4JU |
| Staines | TW18 4YA |
| Stockport | SK4 2JR |
| Stoke on Trent | ST4 2HZ |
| Stoke on Trent Tunstall | ST6 6BE |
| Stourbridge | DY8 4AD |
| Stratford | CV37 0AA |
| Strood | ME2 2BT |
| Sunderland | SR5 2BN |
| Surbiton | KT6 5AR |
| Sutton | SM3 9QN |
| Swansea | SA1 8AP |
| Swansea | SA7 9AG |
| Swindon | SN1 2NN |
| Swindon | SN3 4NS |
| Swindon | SN5 7YW |
| Tamworth | B77 5AD |
| Teddington | TW11 9BQ |
| Telford | TF3 4PA |
| Thanet | CT10 2PR |
| Torquay | TQ1 4AU |
| Trowbridge | BA14 0RG |
| Tunbridge Wells | TN2 3EY |
| Uxbridge | UB8 2UH |
| Warwick | CV34 4PH |
| Washington | NE37 3AB |
| Watford | WD18 0FN |
| Wellingborough | NN8 2RN |
| West Ealing | W13 8QH |
| Weston Super Mare | BS23 3DF |
| Weybridge | KT15 2SN |
| Weymouth | DT3 4FL |
| Wigan | WN5 9AD |
| Witney | OX28 1BY |
| Woking | GU21 6DY |
| Wokingham | RG41 2YQ |
| Wolverhampton | WV1 1PA |
| Wolverhampton, Bilston | WV2 2HU |
| Woolwich | SE28 0BJ |
| Worcester | WR1 3PA |
| Worksop | S80 1UJ |
| Worthing | BN14 9BY |
| Yeovil | BA20 1JF |