Falken RI151 bus tyre shows staying power on Liverpool FC team bus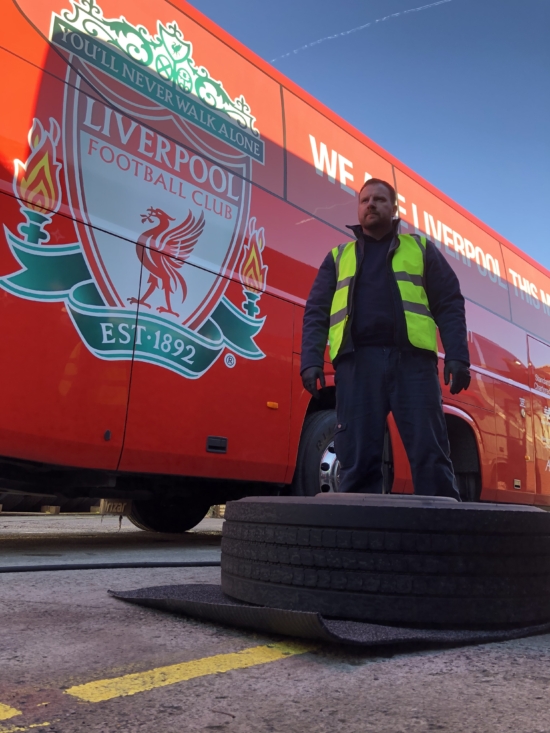 With the 2019/20 season's Premier League back underway, runaway leaders Liverpool FC's team bus is primed to roll on official tyre sponsor, Falken rubber. Protyre fits the manufacturer's RI151 pattern, supplied in the UK by Micheldever Tyre Services.
Safety and durability are paramount when selecting tyres to carry some of the world's best footballers. In a typical season, Liverpool's team bus can rack up 100,000km. It travels as far as Barcelona, Munich, Paris, and Porto. It also ferries the team to domestic league games all around the country. A breakdown or turning up late for the match would be a red card for any fleet engineer. This is especially true for a company that has carried the Liverpool team since the 1960s.
Founded in the 1920s by the current director's grandfather, St Helens-based coach operator Ellisons has a reputation for quality and service. Liverpool FC's rigorously maintained 12.9l Irizar I8 runs on Falken tyres.
Falken RI151 tyre characteristics
The tyre's pliant sidewall offers a more comfortable ride for players post-match. It also makes life easier for the fitters, as Protyre engineer Dave Radford confirmed. "We find the Falken tyres some of the easiest to mount; so much so that one of our older operators is still able to mount Falkens with ease in his late 50s. With the polished rims and TPMS found on these luxury coaches, having a tyre that is simple to mount is one less thing to worry about."
Andreas Giese, senior manager, corporate and product planning at Falken Tyre Europe, explains some of the tyre's benefits. "Our RI151 tyre offers excellent directional stability, stable braking on wet, dry or snow-covered roads, as well as high traction. Like all our new patterns it was developed to offer optimal grip and efficiency using our 4D NANO simulation technology.
"For example, it was able to identify how and where heat would be generated and how to minimise it in a commercial vehicle tyre. This is crucial as temperature build up results in higher rolling resistance, which ultimately reduces fuel economy. This coach carries one of the most precious 'cargos', and it's therefore essential that tyres can be trusted to perform all season and in all conditions."
It is almost three years since Falken tyres were first fitted to the Liverpool FC coach. The coachis one of Ellisons' growing fleet of 39 coaches. These include 11 serving Premier League teams alongside 50 luxury Mercedes MPVs and cars. During this time, it has experienced no tyre failures.
"This is a longer bus and weighing nearly 20 tonnes, it's heavy, particularly at the rear, but it always feels stable," adds Ellisons' Mike Ludden, one of two experienced drivers entrusted with piloting the LFC coach. "We've had no issues with the Falkens. So much so we've also now also opted for Falken's All Season van tyre for some of our fleet of Mercedes Vianos."