Dunlop launches SP247 all-weather trailer tyre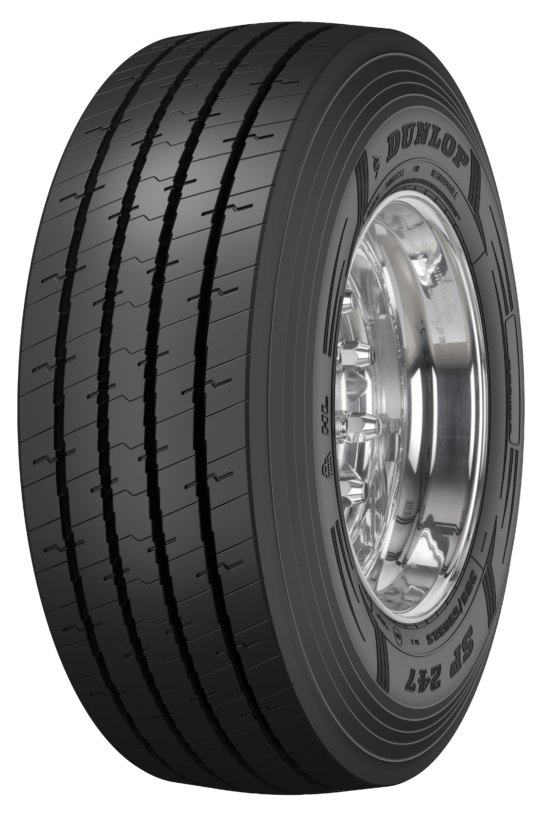 Dunlop has launched the SP247 trailer tyre, which the company says offers "extended all-weather performance, high mileage and low cost per kilometre". The SP247 replaces the Dunlop SP246 range.
Signally its all-weather credentials, the new Dunlop SP247 carries both the M+S and Three Peak Mountain SnowFlake (3PMSF) symbols. Progressive winter tyre regulations in Europe require 3PMSF marked products on trailer axles besides the steer and drive. Fleets operating across Europe have a particular interest in mounting 3PMSF marked tyres, as this type of product will be compliant, independent of local legal requirements.
In addition, the Dunlop SP247 features a robust 5 or 6 rib design. Its construction features a "durable casing construction, deep sipes and a fuel-saving tread compound, high abrasion resistant tread compound. The range is fully retreadable".
According to the company, the new tyre's optimised rib layout ensures an even contact pressure distribution and shoulder robustness. The sipes within the tread profile go up to two-third of the full tread depth so beyond the fifty per cent worn stage. By creating additional biting edges, they interlock with the road surface, providing an optimised grip performance, lasting until a late stage of the tyre life. A longer service life and high mileage is further enabled by the damage and wear resistance characteristics of the new product. The chemical formulation and polymer network of the tread compound have been designed to deliver lower energy or fuel consumption, because of the well-controlled rolling resistance during operation.
"The Dunlop SP247 line up demonstrates functional versatility in all applications, including long-haul and regional distribution, as well as urban and severe on-road service conditions,' said Maciej Szymanski, Director Marketing Commercial Tyres Europe. "The new product range offers excellent winter mobility without compromising any other performance criteria. It is fully compliant with the most stringent European winter tyre legislation, requiring Three Peak Mountain SnowFlake (3PMSF) tyres."
Dunlop SP247 sizes
| | | | | | | | |
| --- | --- | --- | --- | --- | --- | --- | --- |
| Size | Load/speed index 1 | Load/speed index 1 |   | Rolling Resistance | Wet Grip | Noise | Design |
| 435/50 R 19.5 | 160 J | | | B | B | )) | 6-rib |
| 385/65 R 22.5 | 164 K | 158 L | HL | C | B | )) | 5-rib |
| 385/55 R 22.5 | 160 K | 158 L | | * | * | * | 6-rib |
 Source: Goodyear
(*) European Tyre Label grades not yet available.