Continental launches VF agricultural tyres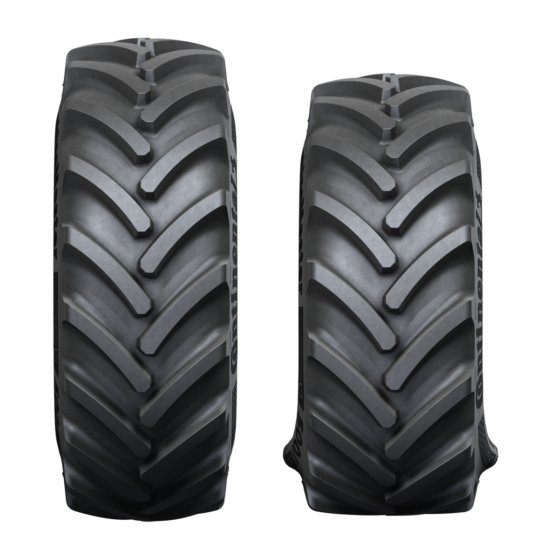 Continental has launched its new range of very high flexion (VF) agricultural tyres. The manufacturer states that the tyres are more versatile and safer on the road. They also increase agricultural efficiencies, Conti adds. VF tyres help to reduce soil compaction, which helps to promote increased yields. They can also save farmers time, as a result of field and road performance gains. Conti re-entered the high-value agricultural tyre market in 2017 with the radial Tractor70 and Tractor85 ranges. It said that it intended to expand its agricultural tyre portfolio to 100 sizes by 2019. The VF tyres are the latest move to increase market coverage.
Conti states that demand is increasing from the agricultural market for VF agricultural tyres. "Continental has developed VF tyres that are safer, longer lasting and kinder to the soil. We offer next day delivery in the UK and all tyres come with a 10-year warranty. As a result, dealer demand is increasing because farmers are investing in tyres that offer greater operational efficiencies and have the back-up of a warranty," explains Richard Hutchins, Continental UK agricultural sales manager.
Conti's VF range features a more flexible side wall with patented N.Flex technology. On the road this enables the vehicle to carry 40 per cent more load than a standard tyre at the same pressure. In the field, the pressure of VF tyres can be lowered by 40 per cent compared to standard tyres, even when carrying the same load. This spreads the weight of the vehicle over a larger surface area and reduces soil compaction.
VF tyres also offer time and fuel savings. The more flexible construction of the tyre makes it possible to transition from the field to the road without adjusting the pressure.  At the reduced pressure required for field use, the tyre can also run at full speed on the road yet deliver the same fuel efficiencies as a standard tyre at road pressure.
"These tyres deliver what farmers need; the opportunity to drive to a job and start work without having to change tyre pressure. VF represents the biggest fundamental shift in tyre design for years," says Hutchins.
Continental has invested in a dedicated agricultural tyre research and development facility at its factory in Lousado, Portugal which produces TractorMaster, Hybrid and VF tyres. The new VF tyre is available for both tractors and combines and has been developed with a new, more flexible bead design to soak up the stress agricultural tyres experience during varied farm work.