The Garage Inspector: lighting upgrades a win-win for workshops and for customers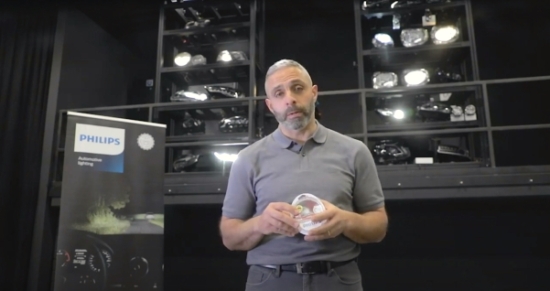 Since Andy Savva was announced by Lumileds as a brand ambassador for Philips Automotive Products, the "Garage Inspector", as he is known to UK automotive aftermarket businesses, has tackled a number of different subjects. As a highly successful former independent garage owner of more than 25 years, Savva now offers aftermarket businesses advice on best practise and better business.
In a series of films about Philips automotive lighting products, through its own dedicated Garage Inspector YouTube channel, Savva talks about why the need for lighting upgrades is growing – and the opportunities on offer because of this.
With an aging demographic among motorists in the UK, he goes into the science involved, from a road safety perspective, explaining the fact that as we get older the lenses in our eyes become darker and we need three times more light as a 50-year-old to see the same distance as a child of 12. Better bulbs that light up the road more effectively, therefore, are without question one of the best-value safety upgrades it is possible for the customer to make. When liaising with customers, technicians only need to ask a simple question to start the process: "Would you like more light when driving at night?"
The upselling of bulbs also benefits the workshop with a better profit margin on the bulbs sold. Additionally, there is the likelihood, if they are an OE quality product – like those carrying the Philips name – that they will offer less risk of a costly early failure, which would mean the workshop having to make good – an expensive option from both the opportunity cost and also in terms of good customer relations.
The Garage Inspector also reiterates the need for halogen bulbs to be sold in pairs – as mismatched pairs look odd and compromise performance. Furthermore, there is also the likelihood that if one fails the other is on its way out.
Savva, as ever, keeps it plain and simple: "Here's to safer motoring for your customers and a more profitable business for you."
The Philips automotive lighting range, developed by Lumileds, allows technicians to fulfil these criteria: Philips RacingVision, which is currently Auto Express Headlight Bulb of the Year, was the first halogen bulb with performance rated at up to 150 per cent brighter light, compared to the standard industry bulb. It is available in H4 and H7.
Philips X-tremeVision G-force, meanwhile, offers up to 130 per cent brighter light when up against the minimum legal standard, and its H4 version was recently hailed as the 'best performer for high beam reach' by What Car? Magazine and, in this latest G-force evolution, also offers an unrivalled blend of performance and durability. It is available in H1, H4, H7, H11 and HB4.
The Philips range offers a wide variety of lighting solutions for every type of automotive lighting application. Halogen, HID Xenon and LED lighting ranges are all available within the portfolio, so that whatever the lighting need, the range of Philips bulbs is going to have it covered from headlight through to signalling and interior lighting.