Kerr's Tyres secures £500k funding from Ulster Bank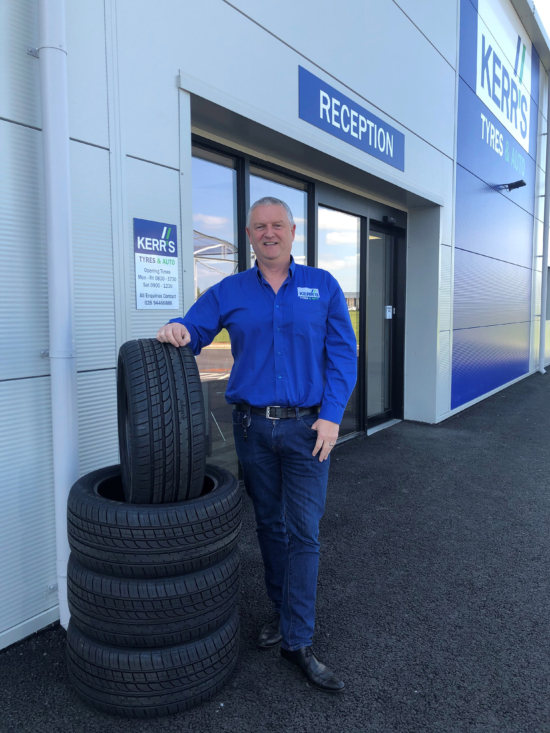 Kerr's Tyres & Auto, one of Northern Ireland's leading suppliers of tyres and automotive services, has secured a half-million pound loan from Ulster Bank to support it through the coronavirus crisis. It has been delivered through the Coronavirus Business Interruption Loan Scheme (CBILS).
Kerr's Tyres & Auto provides services to essential businesses, including delivery vehicles for some of Northern Ireland's largest supermarket chains such as Tesco, Asda and Sainsburys. Kerr's also services many courier vehicles, a part of the business Norman says has seen a 100 per cent uplift.
Owned and managed by Norman Kerr, the family-run business, which was established in 2002, operates 11 tyre and auto services centres throughout Ireland. These include four in the Republic of Ireland and seven in Northern Ireland.
It provides a range of services specialising in tyre replacement, puncture repair, automotive servicing and light mechanical repairs. It is a leading supplier of commercial tyres and provides 24-hour emergency roadside assistance for both general road users and commercial fleets.
The company, which employs over 100 staff, says the loan will provide essential cash flow relief in light of a significant downturn in retail and commercial sales.
Managing director Norman Kerr said: "Over the past couple of months our business has experienced a significant decline. On the retail side business is down by around 75 per cent and though we have diversified in recent years to grow the commercial end of the business, it too has suffered an almost 40 per cent drop."
He added: "A vital piece of the puzzle was business forecasting to understand what our needs are now and how those needs might change in the future. With the support of our accountants Agnew, Mitchell & Cairns the team at Ulster Bank were able to quickly process our loan request.
"We've worked very closely with Ulster Bank and our relationship manager, Ryan Mawhinney, over recent years and in that time the team has provided the funding facilities to enable us to grow the business. Their responsiveness and proactivity throughout the process of delivering this loan will prove essential to sustaining that success as we navigate the weeks and months ahead."
Girvan Gault, Director, Commercial Banking NI at Ulster Bank, said: "Norman and the team at Kerr's Tyres & Auto are working tirelessly to deliver their essential services to other essential businesses continuing to operate today. Theirs is a vital component in that chain which we're very pleased to be able to support at this time."
Ryan Mawhinney, Senior Relationship Manager, Commercial Banking NI at Ulster Bank, says: "With fewer commuters on our roads due to lockdown measures imposed in light of the Coronavirus crisis, the demand for tyre and automotive services has been hit significantly. Norman has demonstrated great preparedness in diversifying and adjusting how his business functions so that it can continue to operate. This support package will play an important part in helping what is a valued service provider and employer to bounce back."