DTM down to single manufacturer as Audi withdraws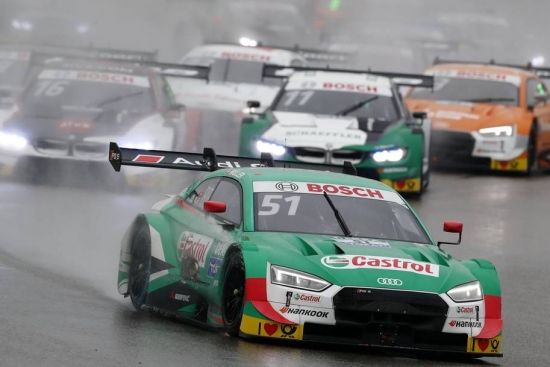 Audi announced its withdrawal from the German Touring Car Masters (DTM), effective at the end of the 2020 season. As things stand, BMW will be the only remianing factory team at the beginning of 2021; R-Motorsport dropped out earlier in the year. Audi wants to concentrate on Formula E and customer sport in the future according to a statement from Ingolstadt. The 2020 season of DTM has yet to start, due to the Coronavirus pandemic. DTM has not started its 2020 series yet due to the Coronavirus crisis, but has announced a new Esports series with Hankook a founding partner.
The Audi news came as a surprise to the exclusive tyre supplier, Hankook, when Tyrepress's sister site Reifenpresse.de contacted the manufacturer's European headquarters in Neu-Isenburg. At the same time, there is hope for a further development of the series, which started in 1984 as the German Touring Car Championship.
"The DTM stood and stands for motorsport at the highest level worldwide. As a long-term tyre partner, we were of course surprised by Audi's exit from the DTM at the end of the year like everyone else," explains Manfred Sandbichler, Hankook's motorsport director Europe. "It is now up to the DTM promoter ITR with its chairman Gerhard Berger together with BMW, us, and all other DTM partners to find solutions for the further development of the DTM, also against the background of the current pandemic," concludes Sandbichler.
Commenting on Audi's exit and the future of DTM, Gerhard Berger, chairman of ITR, said: "Today is a difficult day for motorsport in Germany and across Europe. I deeply regret Audi's decision to withdraw from the DTM after the 2020 season. While we respect the board's position, the short-term nature of this announcement presents ITR, our partner BMW and our teams with a number of specific challenges.
"Given our common association, and the particular difficulties we all face during the COVID-19 pandemic, we would have hoped for a more united approach. This decision worsens the situation, and the future of the DTM now very much depends on how our partners and sponsors react to this decision.
"Nevertheless, I fully expect Audi to undertake its planned exit properly, responsibly and in full partnership with ITR. My commitment remains to the year ahead, and to ensuring we provide our hundreds of thousands of fans with a thrilling and competitive season.
"But, as soon as possible, I also want to create planning security for our participating teams, sponsors and everybody whose job depends on the DTM."