Cosmo introduces three new tyre lines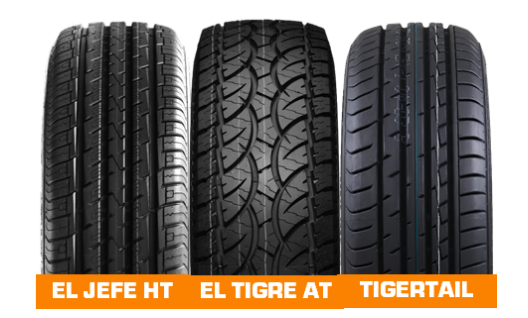 Cosmo Tires is excited to announce the three newest members of its product line, the M+S/All-Season El Jefe HT, the M+S/All Season and the All Weather rated El Tigre AT, and the M+S/All-Season TigerTail. All are available for immediate order.
The Cosmo El Jefe HT is designed to be a premium crossover/SUV tyre. The line currently includes 15 SKUs from 15 to 20-inch rim diameter and is rated M+S/All-Season. The El Jefe HT also includes a free road hazard warranty and a 55,000-mile warranty.
The Cosmo El Tigre AT is a premium light truck/SUV/crossover tyre. Engineered with comfort and low noise Characteristics in mind, the 22 available SKUs include 15 to 20-inch rim diameters, M+S/All-Season and All Weather (three-peak Mountain Snow flake (3PMSF) symbol) rated, the El Tigre AT comes with a 55,000-mile warranty.
The Cosmo TigerTail is a European inspired high-performance SUV/CUV touring tyre that is engineered to deliver high speed stability and precise handling in both wet and dry conditions. The 9 available SKUs range in size from 16 to 22-inch rim diameter and are M+S/All-Season rated. TigerTail comes with a free road hazard warranty.
All 3 lines are manufactured using Cosmo's Ultimate Tire Technology (UTT) which includes a Bead Reinforcement System (BRS), New Structure Technology (NST), Directed Super Silica (DSS) compounding and Optimum Performance Design (OPD).
According to the company, more new product lines will be announced "in the near future".
"Here, at Cosmo, we strive to make the tyre-buying experience memorable and rewarding for both the dealer and consumer. Our innovative marketing approach based on our understanding of what today's consumer wants in a tyre and our focus on the shifting US market demographics is paying dividends." says Rick Wheeler, V.P. of National Sales. "Cosmo delivers value in every sense of the word without compromising quality and performance. These new models are the perfect addition to our current product portfolio."
Cosmo Tires has been producing tyres for a wide assortment of industry applications since 1994. The company expanded its product offering in 2017 with a second-generation PCR and TBR line-up that now includes over 250 SKUs backed by the "Cosmo Tires Warranty Suite" programme.