Reigning BRC champions unveil Yuasa sponsorship and new car on Pirelli stand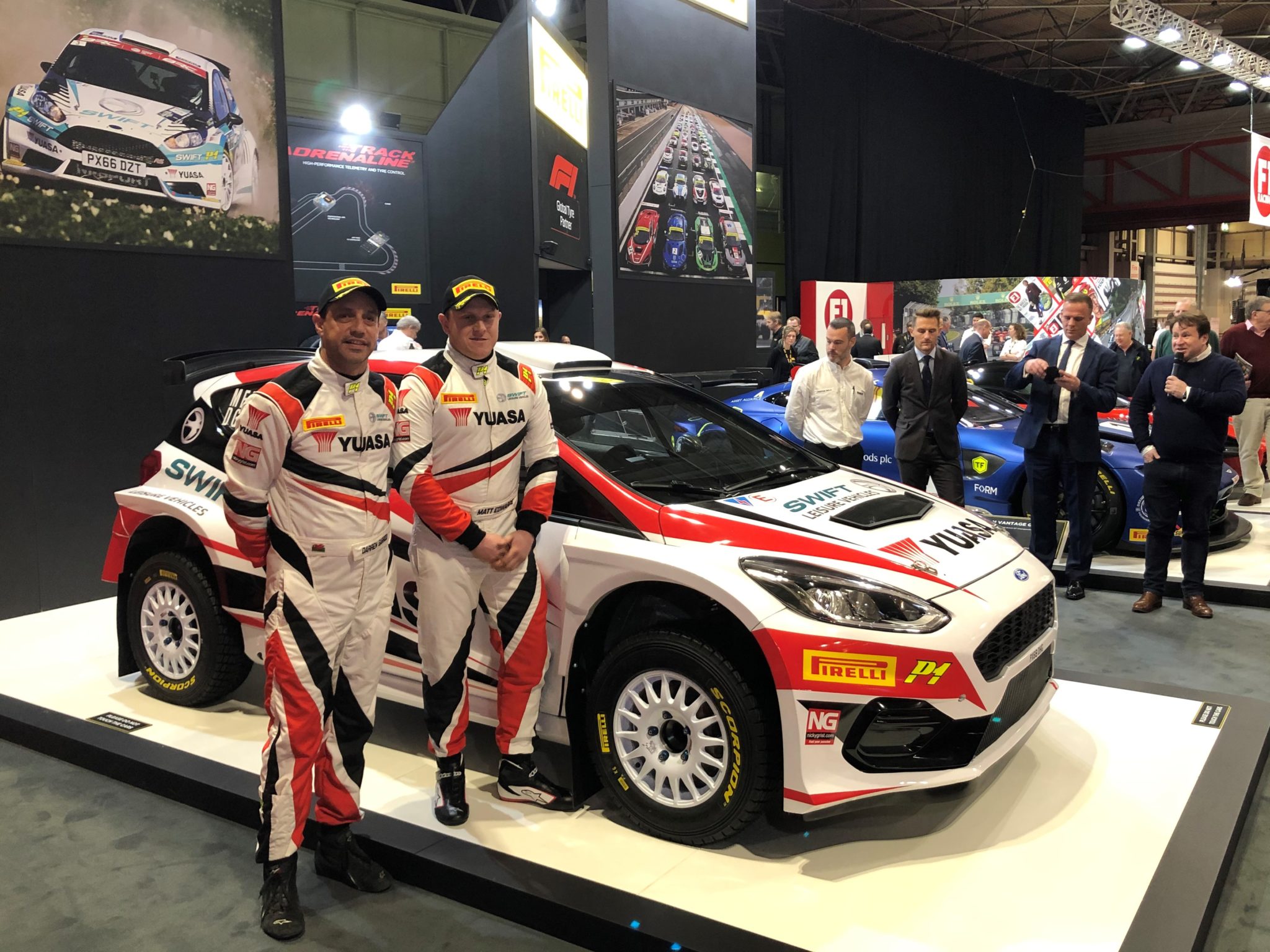 Yuasa has announced that the battery brand has become title sponsor of rally driver Matt Edwards and co-driver Darren Garrod, with the unveiling of a new car and livery on the Pirelli stand at Autosport International. The move sees the Yuasa Rally Team name enter the sport for the first time as the title sponsor of M-Sport's BRC operation. The team will tackle stages across the UK, Ireland and Belgium in the all-new Ford Fiesta R5 MkII carrying Yuasa's distinctive red, white and black livery, made popular in the British Touring Car Championship (BTCC).
The new R5 MkII sees significant improvements over its championship-winning predecessor. Performance has increased to 290 BHP and 475 Nm of torque at 4,000 RPM while the adoption of aluminium damper bodies provides a welcome weight reduction.
Yuasa's support also sees the continuation of their close partnership with Swift, Europe's number one brand for leisure vehicles, with the British caravan and motorhome manufacturer's logo featuring prominently on the car.
Yuasa, a long-time supplier of motorhome batteries to Swift, joined the UK manufacturer's value-added partner programme in 2019. As part of the scheme, the two companies work closely to provide caravan and motorhome owners and dealers access to Yuasa's award-winning products, supply and service.
James Hylton, managing director of GS Yuasa Battery Sales UK Ltd said: "We're excited to be working with Matt and the M-Sport team again – their results over the last few years have been hugely impressive so continuing our support as they challenge for their third championship was an obvious one for us.
"We're proud to be continuing our partnership with Swift too. Since joining their value-added partner programme last year, we've worked hard to integrate the two brands closely while continuing to provide the leisure vehicle market with the most cutting-edge equipment available."
Yuasa are synonymous with motorsport, sponsoring the Honda-backed Halfords Yuasa Racing team in the BTCC and HRC Repsol Honda in MotoGP. 2020 is Yuasa's second year supporting Matt Edwards in the MSA British Rally Championship following their sponsorship of the Swift Rally Team in 2019.
Matt added: "It is fantastic to be heading into 2020 with M-Sport again, and I'm very pleased Yuasa have joined us for our campaign! It's also exciting to be heading into the year with the all-new MkII Fiesta R5, a car I already have a little experience of on tarmac. I'm confident we can be competitive again towards a third consecutive title."
The 2020 British Rally Championship starts with the Cambrian Rally on 8 February. Matt's 2020 Fiesta can be found on the Pirelli stand at the Autosport International Show until Sunday 12 January. cja/pg