Goodyear Drive-Over-Reader wins third innovation award in 2019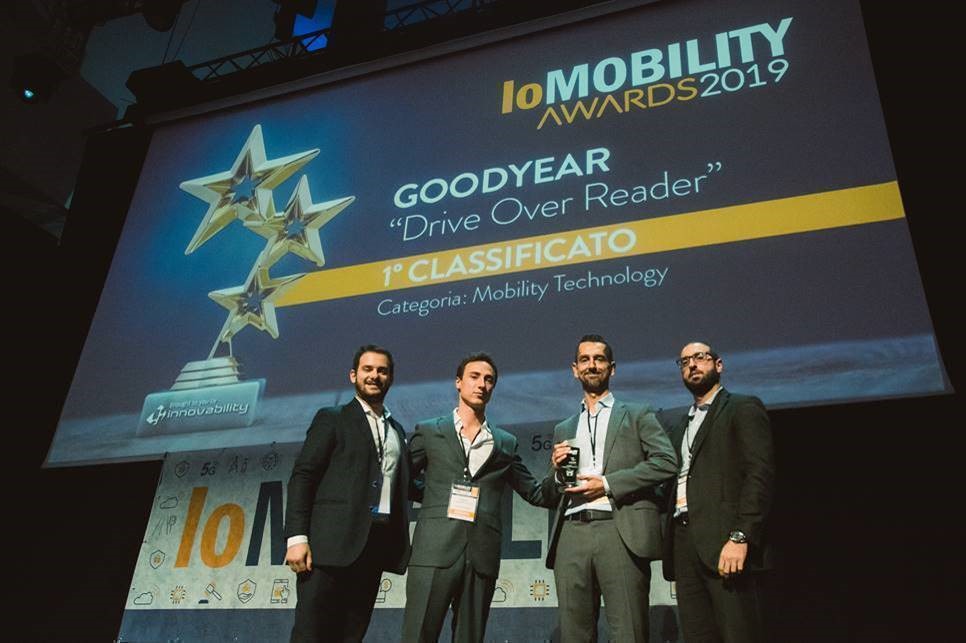 Goodyear's Drive-Over-Reader has received three industry awards in 2019, recognising the fleet tyre monitoring and management tool. The system won its latest accolade on 27 November when it was announced as the winner of the 2019 IoMobility 'Mobility Innovation' award by #Innovability. The annual IoMobility Awards honour innovative companies and products that address the challenges of "smart mobility" in Italy. Goodyear's Drive-Over-Reader first received a prize in the 'Mobility Innovation' category, after being evaluated by a jury of more than 20 experts from the transport industry.
A few weeks prior to this, Goodyear received an innovation award at the 23rd Geluid, Trillingen en Luchtkwaliteit Congres. It is one of the largest congress focusing on Sound, Vibration and Air Quality in the Benelux. The Goodyear Drive-Over-Reader was recognised by the jury as the best integrated solution having most potential to improve the quality of our living environment. In the final selection, the jury considered following aspects: air quality, noise, CO2 reduction, energy efficiency and road safety.
In March, German bus trade magazine busplaner named the Drive-Over-Reader as winner of its 'Tyre Management Category' in its 2019 'International Sustainability Awards'. These awards recognise innovative products and services that offer environmental benefits and conserve resources in connection with the bus industry.
"We are honoured to have received these three awards demonstrating the significance of Drive-Over-Reader and having the innovation capabilities of our team recognised by industry and innovation experts. Equally important is the fact that proactive tyre maintenance makes significant contributions to the environment in cutting emissions as well as keeping our customers ahead of the game." said André Weisz, managing director of Goodyear Proactive Solutions EMEA.
The tyre manufacturer said that the Drive-Over-Reader was developed to reduce the time and complexity of checking the condition of tyres for fleet operators. It consists of a ground-mounted sensor measuring tyre pressure, remaining tread depth, axle load and total vehicle weight. Every time the vehicle returns to the yard and drives over the plate, the fleet manager will receive a comprehensive overview on all key parameters in just seconds. The award-winning technology is developed to support fleets in reducing their carbon footprint and total cost of ownership by limiting their fuel consumption. High consumption is often caused by underinflated tyres, tyre-related breakdowns, frequent tyre renewal and tyre maintenance costs, as well as potential penalties in relation to overload and late deliveries.
Bringing its own drive-over-reader to market has formed part of Goodyear's transition into a tyre and mobility solutions expert, rather than solely a tyre supplier. The tool forms part of the Goodyear Total Mobility suite, closing the tyre management loop with a full end-to-end offer including premium tyres, proactive tyre management solutions and a pan-European service network.