Feel the strain – Bridgestone's tyre sensor tech for fleets & autonomous vehicles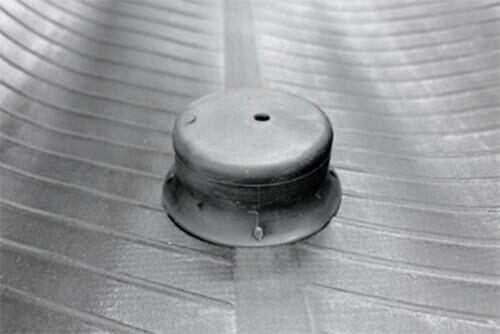 Bridgestone Corporation has developed a technology that estimates axle load and tyre wear via a sensor affixed inside a tyre. This newly-developed sensor measures the change in strain that occurs when a moving tyre comes into contact with the road. Bridgestone claims its Smart Strain Sensor technology is unique and the "first of its kind in the world."
It works by incorporating next-generation Internet of Things (IoT) technologies. In addition to measuring dynamic changes in strain that occur when a tyre is in use, the Smart Strain Sensor tracks tyre inflation pressure and temperature. A proprietary algorithm is applied to convert the data it gathers into tyre load and wear information, which is then collected and sent to the cloud.
Existing Bridgestone sensing technology works by performing measurements based on accelerometer sensors, which require a certain amount of speed to acquire data. Smart Strain Sensor technology works differently: It measures strain, which is independent of speed. As such, it can acquire highly reliable data even at low speeds. Bridgestone sees this quality as an "important differentiator" when dealing with the requirements of autonomous vehicles, specifically the lower speeds they're expected to operate at.
As well as converting data and sending it to the cloud, the proprietary algorithm contributes "substantial improvements" to the lifespan of batteries used to power Smart Strain Sensors, a critically important factor for the technology's practical implementation.
Detecting potential tyre-related issues before they happen helps drivers and vehicles reach their destinations safely. Equipping tyres with Smart Strain Sensors allows vehicle managers to remotely monitor information such as air pressure and metrics pertaining to load and wear in real time. By monitoring tyres and predicting maintenance issues before they occur, Bridgestone anticipates this technology will contribute towards improving safety and productivity for today's fleets as well as autonomous cars in the future.
Bridgestone T&DPaaS
Bridgestone doesn't just aim to develop hardware and technologies for tomorrow's vehicles – it intends to link its products and services with digital technologies in order to transform into "a company that advances mobility." It has set up a platform to achieve this, Bridgestone Tires and Diversified Products as a Solution (Bridgestone T&DPaaS).
Going forward, Bridgestone intends to further improve motoring safety by "proactively" utilising information and communications technology (ICT) and other cutting-edge technologies. It will use these to promote innovation through business model development and across the value chain. At the same time, the company will work on improving the safety and reliability of tyres used for new forms of mobility such as automated driving.