Cooper Tire Europe launches full rally tyre range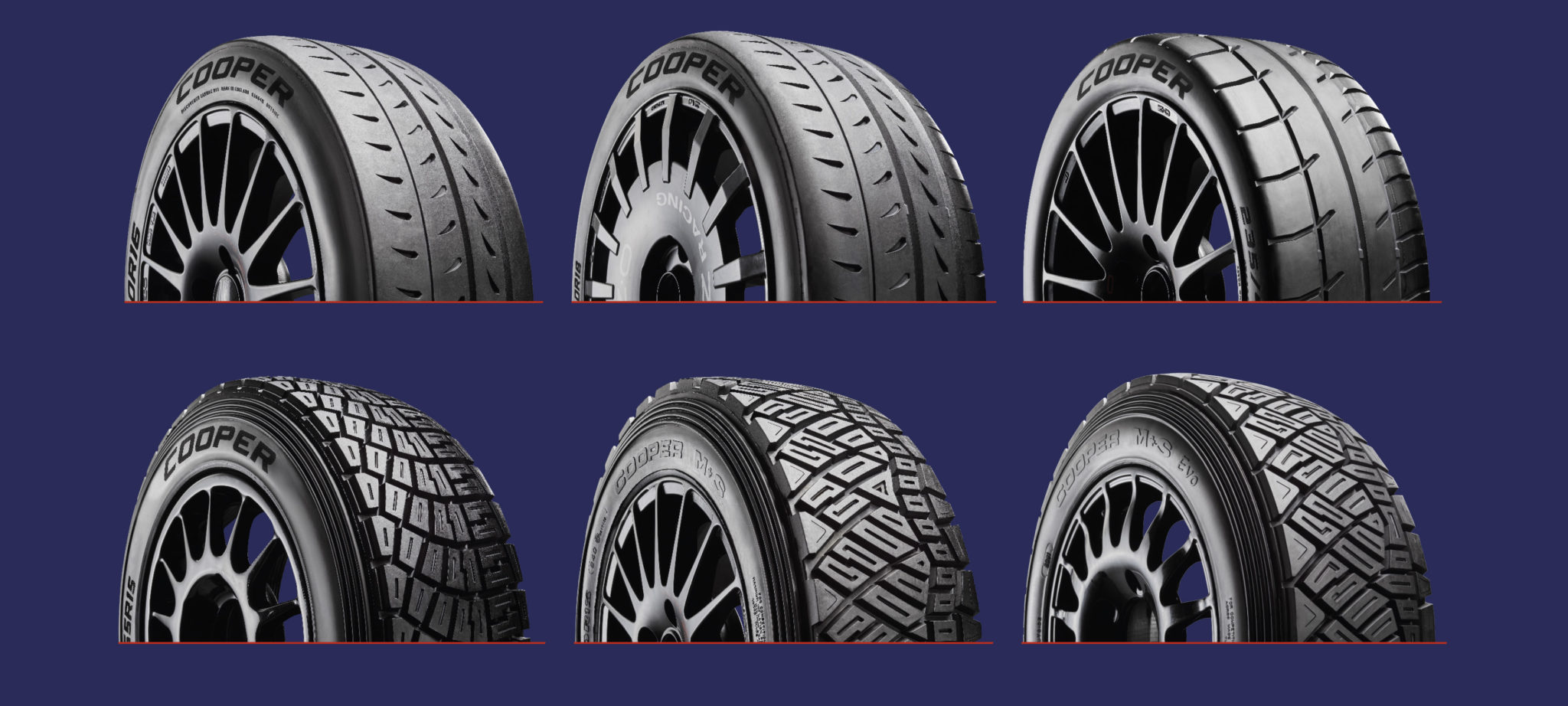 Manufacturer supplies full range of premier off-road categories, while Avon brand's motorsport heritage represented by track tyres
Cooper Tire Europe has launched an extensive new rally tyre range.  Developed and manufactured by Cooper Tire Europe, the new range covers tarmac, classic tarmac, gravel and mud and snow (M+S) applications. The manufacturer states that the range is designed to provide ultra-high performance and reliability across numerous applications and levels of rallying competition.
The range includes:
Cooper Discoverer Tarmac DT1,
Cooper Discoverer Tarmac DT02,
Cooper Rally Classic Tarmac CT01,
Cooper Discoverer Gravel DG1,
Cooper M+S and Cooper M+S Evo.
Within the core range of six tyre patterns, 13 different sizes are available – covering 13-18 inch rims. The Cooper M+S and Cooper M+S Evo are available in soft, medium and hard compound options, while the Discoverer Tarmac DT1, the Discoverer Tarmac DT02, the Rally Classic Tarmac CT01 and the Discoverer Gravel DG1 are available in extra soft, soft, medium and hard compounds.
Paul Coates, general manager, Motorsport, Cooper Tire Europe, said, "By introducing a dedicated rally tyre range, Cooper has added another important dimension to its motorsport offering. The range suits a variety of users, from club level through to premier competition. The Cooper brand is synonymous with on- and off-road performance, and our tyres are built to last and to perform at the highest levels. To supply the rally tyre market with such a broad new product portfolio is a clear signal of our commitment to the sport."
Cooper is the sole tyre supplier to the FIA World Rallycross Championship, the sister FIA European Rallycross Championship and the Americas Rallycross Championship. In 2020, Cooper will complete the set of premier off-road FIA category sponsorships, having recently been selected to supply the FIA European Autocross Championship. Cooper has earned a desirable pedigree in rallying circles, having served as a major supplier to several forest, gravel, ice and historic rallies over three decades. More recently, Cooper has supplied the North American Rally Championship and the Mobil Rally Chile.
'Next step' for Cooper Motorsport
Paul Coates told Tyres & Accessories about the philosophy behind the company's new range of rally tyres: "We see the introduction of a rally range as the logical next step for the Cooper Tires motorsport department. Cooper has supported rallies of all surface types over the last three decades and, more recently, has supplied tyres to the North American Rally Championship and the Mobil Rally Chile. With a dedicated rally range, we are fully embracing the cutting-edge technology at our disposal.
Coates added that the rally range represents "the final piece in the jigsaw" for the company's motorsport operations: "We are already active across a variety of applications, from developing custom tyres for circuits, road courses and ovals on the Road to Indy ladder, to supplying bespoke dry- and wet-weather tyres to the World and European Rallycross Championships."
Considering the comprehensive offering of the new range, Coates says that Cooper is targeting rally drivers from across the spectrum: "From club level championships to premier competition, our rally range will be suitable for drivers of all abilities. Alongside this, regardless of the surface – tarmac, gravel, mud or snow – we have a tire for every rally, meaning drivers are covered wherever they compete."
He concluded: "As touched on, we are active in many high-level championships worldwide. In addition, every category that we have turned our hand to, we have succeeded in. Recent benchmarking confirms that our new rally products are competitive at the highest level. We are confident that our background in motorsport, coupled with our highly ambitious research and development activities, will prove to be a winning formula for our new rally range.
Cooper supplies world's premier off-road categories
Cooper Tire strengthened its position as partner to some of the world's premier off-road categories in 2019, continuing to supply the FIA World Rallycross Championship and the FIA European Rallycross Championship. Beginning in 2020, it will complete the set of FIA-sanctioned off-road competitions, having won the tender to supply the FIA European Autocross Championship. Cooper adds that its new rally tyre range will give it exposure to a broad audience.
For Cooper, off-road motorsport represents a significant part of its brand DNA. Prior to supplying the FIA World Rallycross Championship, the tyre manufacturer claimed 19 consecutive premier rallycross championships. It has also served as a major supplier to several forest, gravel, ice and historic rallies over three decades, and supports the North American Rally Championship and the Rally Mobil Chile.
In 2019, the World Rallycross Championship went down to the wire in Cape Town, South Africa. At the end of a dramatic season finale, Swedish racer Timmy Hansen beat Andreas Bakkerud to the title on countback. Tied on points, Hansen won by virtue of his four victories to Bakkerud's one. In European Rallycross, another Swede, Robin Larsson, secured the title with a round to spare – freeing him up to appear in the Latvian World RX round. Cooper also continued its support of the Americas Rallycross Championship, which grew in popularity during only its second campaign. Home favourite Tanner Foust emerged victorious after narrowly missing out in 2018.
Another championship to enjoy significant growth with Cooper's support is RallyX Nordic. For the 2019 season, the calendar expanded to seven rounds, featuring visits to Sweden, Denmark, Finland, Norway and new addition Latvia. In another rollercoaster finale, Robin Larsson claimed the premier Supercar title by a solitary point over fellow Swede Oliver Eriksson. Earlier in the year, the off-season RallyX on Ice mini-series was won by Sebastian Eriksson – also from Sweden.
To supply each category, Cooper developed a trio of rallycross tyres: the ACB11, RX Moulded Wet and Discoverer RX ICE. The ACB11 is Cooper's product for dry conditions, designed to provide extreme stability and performance on tarmac and loose surfaces. The RX Moulded Wet is a high-performance wet weather tire, featuring a specially-engineered compound to boost start line traction and a highly-tuned construction to enhance handling. The Discoverer RX ICE is a studded ice tire, boasting a 416-stud layout that generates more traction and inflicts less erosion on frozen lakes.
Alongside its off-road activities, Cooper has also supplied track-based motorsport this season. Having previously supplied the Champ Car Atlantic and A1 Grand Prix championships, it is now the exclusive tire partner of the US-based Road to Indy ladder – comprising the US F2000 National Championship, the Indy Pro 2000 Championship and Indy Lights. In 2019, all three categories – supplied with custom road and oval slicks and wet-weather tires – crowned American champions; in Indy Lights, Oliver Askew fended off Rinus VeeKay; in Indy Pro 2000, Kyle Kirkwood edged out Rasmus Lindh; and in US F2000, Braden Eves got the better of Hunter McElrea.
Cooper has also worked with ex-Formula 1 driver David Coulthard, who is an ambassador of the company's ultra-high performance (UHP) range of car tyres, which aims to bring this cutting-edge track performance to the road. In a multi-faceted role, the 13-time Grand Prix winner offers technical advice, insight and feedback to Cooper's product development team.
Avon Tyres triumphs with cars of all ages in another action-packed year
Avon Tyres enjoyed a stellar 2019 on the track as it tasted success across a wide range of applications – both modern and classic. Continued dominance in hill climb circles landed the European and Italian titles, while its involvement in the FIA Masters Historic F1 and Peter Auto championships went from strength to strength. Avon has a rich history and heritage in motorsport, having founded a division dedicated to racing back in 1950, and Cooper Tire continues to wed the brand to motorsport via research, development and manufacturing in Melksham, UK.

Across its whole motorsport range, which also encompasses motorcycle tyres, Avon has 3,000 live specifications and more than 16,000 SKUs in its back catalogue. It is involved in more than 200 championships around the world and uses a fleet of trucks to offer full factory service for several competitions.
Avon has supplied a range of high-profile championships including British Formula 3, International Formula 3000 and British GT. It has also forged special relationships with prominent manufacturers such as Aston Martin, which culminated in victory at the 1959 24 Hours of Le Mans and the overall World Sports Car Championship (WSCC).
In addition, several legendary drivers started their car racing careers on Avon tyres. A long list of names to have done so includes Formula 1 World Champions Ayrton Senna, Mika Häkkinen, Fernando Alonso and Jenson Button, while Sir Stirling Moss and Carroll Shelby won the aforementioned WSCC title on Avons.
Avon itself reached the pinnacle of single-seater racing in the 1950s. Across six separate F1 seasons, between 1954 and 1982, its products were used by legendary marques Aston Martin, Ferrari, March, Tyrrell and more. Amid fierce competition, Avon appeared in 29 Grands Prix and scored eight points, the first achieved with ATS driver Slim Borgudd at the 1981 British Grand Prix.
This heritage is represented today via Avon's bespoke slick and wet-weather tyres, supplied to the FIA Masters Historic Formula 1 championship. Growing in popularity year-on-year, the series brings classic F1 cars to the fore once again – enabling fans to relive seasons gone by. In 2019, the post-78 title was secured by Matteo Ferrer-Aza and his striking Ligier JS11/15, while the pre-78 and post-83 titles were secured by Henry Fletcher (March 761) and Martin Stretton (Tyrrell 012) respectively.
Alongside this, Avon plays a similar role by providing tyres for the Peter Auto historic championship, which features some of the finest endurance models of all time – including the Porsche 917, Lola T70, Jaguar E-Type and Shelby Cobra. A popular choice among series competitors, the all-weather Avon CR6ZZ is a road legal radial competition tyre suitable for classic performance cars. Available in a variety of high-profile sizes, the range caters for everything from Minis and MGBs to Austin Healey 3000s and Ford GT40s.
In modern-day competition, Avon tyres helped competitors to claim both the European and Italian hill climb titles with Christian Merli and Lucio Peruggini respectively. Merli, aboard his Osella FA 30 Zytek LRM, won five events across the continent, setting four new records in the process. Peruggini, driving a Lamborghini Huracan, won eight events in his native Italy, joining Merli in setting a string of new records.
For 2019, Avon launched its most comprehensive range of hill climb tyres to date, including new sizes, compounds and constructions. Available in 90 unique sizes in both crossply and radial constructions, the range has been thermally and chemically optimised for hill climb applications, offering superior launch off the line and maximising overall performance.
Meanwhile, Avon's trusted ZZS and ZZR remain the supply tyres for the family of Caterham championships. The ZZR is also the tyre of choice for the Lotus Cup Europe, where Bence Balogh made history by becoming the first driver in series history to secure back-to-back championships. While Balogh took the overall title and the 'V6 Cup' crown, Franck Laroche won the '2Eleven/Open' class and Sven Pettersson won the 'Production' class.