Supermarkets Lidl and Morrisons charge ahead with EV charging points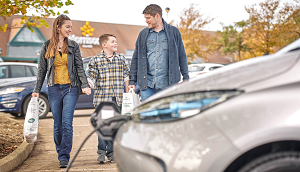 Morrisons is unveiling its first 50 GeniePoint rapid charging points at its stores nationwide, with a further 50 planned by 2020. To help customers, the GeniePoint charging points have been located around the perimeter of the car parks to ensure they are available to those who need them and not obstructed by other customers, says Morrisons.
Andrew Ball, fuel and services manager of Morrisons, said: "Customers are beginning to take part in the biggest revolution in car design since the internal combustion engine was first developed. We need to follow them and give them the opportunity to charge while they shop."
The majority of the electricity will come from Engie, which buys from zero-carbon energy sources like hydroelectricity, biomass, bio-gas, wind and solar.
Alex Bamberg, managing director, Engie EV (Electric Vehicle) Solutions, the owner of the GeniePoint Network, said: "Providing convenient, fast charging facilities is essential in ensuring drivers have the confidence to switch to electric vehicles and reduce traffic pollution. Morrisons supermarkets are ideally situated in communities as drivers go about their day to day activities, and will make an important contribution as we build the most reliable rapid charging network nationwide."
Customers can register to use the GeniePoint chargers via the web app www.geniepoint.co.uk, which is free to join. There is no monthly fee and drivers only pay for the electricity they use which costs 30p per kW hour.
The news that Morrisons is growing its network of charge points comes after the Government announced funding to double the number of rapid charge points up to 5,000 in the UK.
The Charging Infrastructure Investment Fund will be managed and invested on a commercial basis by the private sector, and Government will invest up to £200m to be matched by private investors.
In a separate move, supermarket chain Lidl has announced it will install rapid electric vehicle chargers at all of its new stores.
In addition to installing the Pod Point chargers in its new buildings, Lidl will also retrofit charging points into "a number of existing stores", which together with new stores represents a total investment of over £25m.
The supermarket already has rapid chargers at over 40 of its stores, which it says have helped to power more than 6.9 million EV miles. Its new commitment means over a third of all Lidl stores (more than 300) will have rapid electric vehicle chargers by 2022.
Ingo Fischer, chief development officer for Lidl GB, said: "At Lidl, we are committed to tackling the environmental concerns that our customers care most about, whilst giving them access to solutions that will support them in their ambition to lead more sustainable lives.
"Not only will our customers be able to charge their electric cars in 50 mins – less time than it takes to do a big shop – they will be able to do it for the best price on the market. It is our hope that, through this significant investment, we will enable easier access to charging points, ultimately helping more households switch to electric vehicles."
The points, which can charge vehicles from 0-80 per cent charge in under an hour can be used via the company's Open Charge mobile app. Chargers will have their own allocated and marked parking bays for use, and stores with charge points can be viewed via the Lidl app or on Zap-Map and Pod Point's maps.
These announcements follow on from last year when Tesco announced it was to install thousands of 'free' EV charge points across its network of sites. In partnership with Volkswagen, Tesco aim to develop what it claims will be by the UK's largest retail electric vehicle (EV) charging network, rolling out more than 2,400 Pod Point EV charging bays across 600 Tesco stores within the next three years.