Michelin: 9 new two-wheeler tyre lines in 2020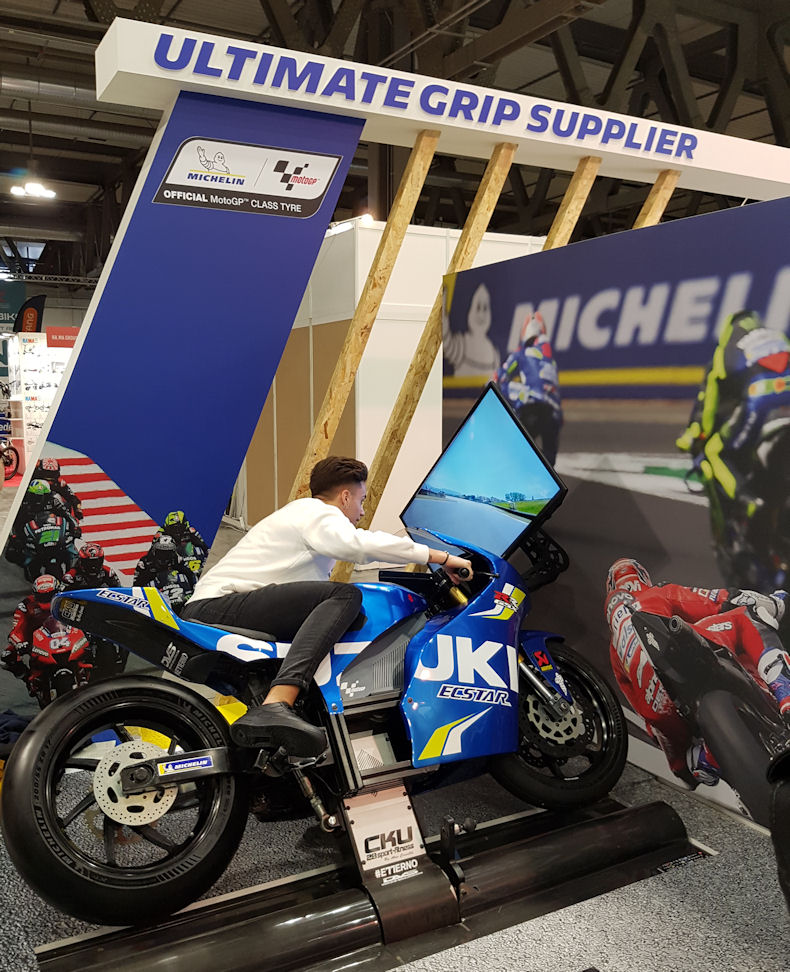 Sales of Michelin motorcycle tyres have doubled within the past five years. The tyre maker also aims to double sales again in the coming five, and will be aided here by a comprehensive renewal within its two-wheeler tyre portfolio in 2020. No less than nine new products will be introduced next year, a line-up expected to represent a quarter of Michelin's sales within this segment. The new additions are currently on display at the EICMA motorcycle show in Milan, Italy.
The newcomers for 2020 include four new ranges, all members of the 'Michelin Power' family. These are the Michelin Power 5, Power GP, Power Cup² and Power Slick². All offer 2CT technology for the front tyre and 2CT+ for the rear as well as Michelin's Premium Touch finish on the sidewall.
Power to the people
The Michelin Power 5 is aimed at sports motorcycle owners who use their bike intensively on public roads. The priorities of these riders range from long tyre life and good grip performance in all conditions, but especially in wet weather. Efficient traction and reassuring handling under braking are also important.
Michelin describes the wet-weather grip provided by the Power 5 as "exceptional". The tyre's chief characteristics include a compound incorporating both silica and carbon black and a sea-to-land ratio of 11 per cent for both front and rear tyres.
The Michelin Power GP targets riders who use their sports bike on public roads but who occasionally take it to circuits, such as for track days. As with the Power 5, the Power GP incorporates a silica/carbon black compound. Other primary characteristics include 'slick zones' on the sidewall for track use and a sea-to-land ratio of 6.5 per cent.
Although the Michelin Power Cup² is essentially designed for track use, it is type approved for road use. It offers fast lap times both over a single lap and on a run of many laps. The tyre's compound is primarily designed for on-track performance. Sea-to-land ratios are respectively four and five per cent for the front and rear tyres, enabling type approval for road use.
The Michelin Power Slick² is designed for track use and track-day fans, but is not type approved for road use. It is mainly for riders whose main priority is speed. It offers fast lap times both over a single lap and on a run of many laps. Michelin says the tyre's compound was "developed uncompromisingly for on-track performance".
Three new on-road ranges
Michelin is Europe's number one manufacturer of scooter tyres, and between 2010 and 2018 sold some eight million examples of its City Grip. A successor will arrive in 2020, and with the new tyre Michelin addresses the "even more exacting" demands of today's scooter owners, whose priorities are safety, grip on all road surfaces and longevity.
Engineers working out of Michelin's Technology Centre have developed a new compound for the City Grip 2. This, along with the tyre's new 'shark's tooth' tread pattern design, is said to provide "unprecedented grip performance in wet weather" without compromising the longevity seen in the predecessor tyre. Michelin points to the results of in-house comparative testing as evidence of this performance. When slowing the Michelin City Grip 2 and Pirelli Angel Scooter (front size 120/70 – 15 and rear size 140/70 – 14) braking from 50 to 10 km/h in a straight line on a wet surface, the Michelin tyre reached the desired speed 1.7 metres ahead of the Pirelli rival.
The City Grip 2 supersedes the original City Grip except in smaller sizes, with most new products available from January 2020.
Michelin says that when it comes to tyres, sports performance is not the top priority of custom motorcycle enthusiasts who crave for wide open spaces and freedom. Instead, their preference goes to long tyre life, safety whatever the weather and reliability. These are, it adds, the "very same qualities" as those delivered by the new Michelin Commander III range.
The latest generation of the Michelin Commander family comes in two incarnations – the Commander III Cruiser and Commander III Touring. While both come with Premium Touch sidewalls in most sizes, each model has a distinct tread pattern. Both feature an all-silica compound. The Commander III Cruiser has a sea-to-land ratio that is three per cent superior to that of the Commander II, giving it enhanced grip, especially on wet roads.
Two off-road lines
Off-road competition calls for specific qualities from tyres which have to ensure impeccable traction in tough, shifting conditions on ground that can range from mud, to stones, exposed tree roots and steep slopes, while the terrain itself has a tendency to degrade as a function of the weather, the number of laps covered in motocross races or the number of competitors who have previously been over the course in enduro events. In 2020, Michelin will boost its off-road range with the release of two new tyres: the Enduro Xtrem for fans of these gruelling enduro competitions and the StarCross 5 Mini, which targets younger riders as they familiarise themselves with the niceties of motocross.
The new rear Michelin Enduro Xtrem is the product of three years' research and development work. The tyre maker says this effort has resulted in a tyre that provides exceptional grip, even on the most challenging surfaces. Resistance to wear was another key consideration in the brief for this new tyre. The Enduro Xtrem is used by numerous teams, including Rockstar Energy Husqvarna Factory Racing whose riders include Graham Jarvis.
Young motocross riders on big-wheeled bikes of between 50cc and 85cc should be able to expect the same performance as that their elders enjoy. Michelin has therefore developed a variant of the original StarCross 5 range. The new Michelin StarCross 5 Mini features the same DNA as the StarCross 5 Medium, which sits alongside the StarCross 5 Soft in a range that covers a broad spectrum of terrain types and grip levels. Two years' work went into the development of these new ranges, and the result is strong grip performance and long tyre life, while a wide choice of sizes is available (from 90/100 x 16 to 2.50 x 10).