Free & easy: Agritechnica launch for AgroPressure by Michelin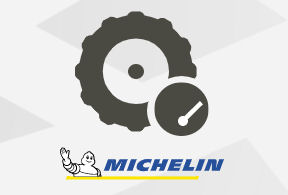 Michelin has presented a free of charge tyre pressure calculation aid for farmers at this year's Agritechnica show. The AgroPressure by Michelin service aims to alleviate the tedium of having to manually estimate load and then refer to tables outlining the manufacturer's recommendation. Michelin says its solution is "connected" and "smooth".
AgroPressure by Michelin is offered in partnership with 365FARMNET and the University of Berne's Terranimo model. It combines the three market players' expertise in machinery, tyres and soils. The solution is available on the 365FARMNET platform. Farmers can access 'pressure' and 'soil protection' advice through an interface that is personalised and synchronised with their equipment list.
Michelin says the AgroPressure solution also accommodates the need for farmers to manage all their machinery regardless of the brand of tyre each is fitted with. The module therefore integrates all main agricultural tyre brands available on the market and calculates the load of powered and towed vehicles.