Brown Lee Performance launches official Gulf Oil Heritage Edition Mustang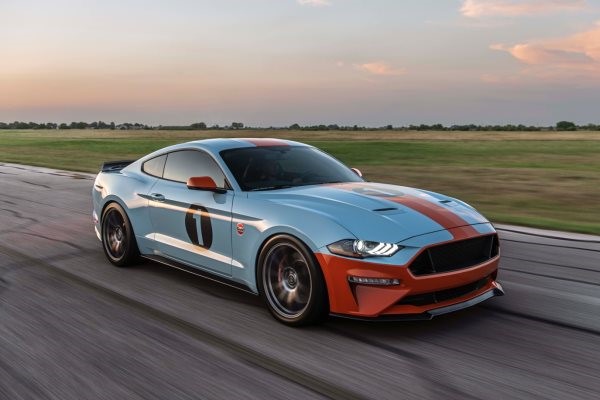 History records the inspiring story of how the Ford GT40 hit the track in 1966 and went on to secure four consecutive victories for the Blue Oval. In 1967 Ford teamed up with lubricant giant Gulf to create what was to become arguably the most loved racing car livery of all time, the iconic light blue and orange.  The colours have certainly stood the test of time, with an ever-growing army of passionate Gulf fans and more than half a century later, the Gulf Oil paint scheme that was worn by both the 1968 and 1969 winning Ford GT40 is more evocative than ever. Now, we honour the legendary feats of teamwork and determination displayed by those all-conquering Gulf-Fords with the arrival of the Brown Lee Performance official Gulf Heritage Mustang-Limited Edition.
The Gulf Heritage Mustang-Limited Edition will quicken the pulse rates of petrolheads the world over. Under the skin clad in those legendary Gulf colours, is a muscle car of epic proportions, reflecting three core elements – Power, Speed, and a Legacy of two incredible automotive Goliaths now embodied in one of the most famous car models of all time.
Under the bonnet of this awesome performance machine is a supercharged 5.0L Coyote V8, boasting an industry-leading 800-horsepower and a vision-blurring 675 lb-ft of torque. This tyre-shredding power is fed through Ford's 10-speed automatic or 6-speed manual transmission and can be had in either coupe or convertible form. In addition to power, the Gulf Heritage Mustang-Limited Edition receives an entirely new performance suspension, carbon fibre front splitter, side skirts, rear diffuser and wicker bill spoiler. However, more notably, the car receives a full Gulf Oil-licensed exterior racing livery, identical to that which was displayed on the '68 and '69 GT40 and more recently, the 2019 Heritage Edition Ford GT. When an owner climbs inside their Gulf Heritage Mustang-Limited Edition, they will be greeted by an interior that is just as impressive as the engine upgrades and exterior paint scheme. Legendary Gulf orange and blue accent a full black leather and Alcantara cabin to make this car genuinely feel special inside and out
"We are incredibly proud to have this opportunity to honour the Ford and Gulf racing legacy in such a special build." said company founder and CEO, David Lee. "With over 800 horsepower carrying this licensed icon from 0-60 mph in under 3 seconds, the Gulf Heritage Edition Mustang pays homage to the accomplishments of the Ford and Gulf racing teams from 50 years ago, on all levels."
"We are truly thrilled to launch the superb new Gulf Heritage Mustang-Limited Edition with Brown Lee Ford and we are proud to be both Global Technology Partner and a first fill oil supplier, using Gulf Formula G. With its Gulf Power-Max technology and race-bred pedigree, it has everything needed to keep this car's incredible 800+ brake horsepower engine running smoothly," enthused Alexandra Ip, vice president of global marketing at Gulf Oil International. "Gulf, is a unique brand. Not only are we dedicated to developing advanced lubricant solutions for our customers but, throughout almost 120 years of passion, Gulf has constantly innovated, following the maxim "You Get Out What You Put In". This new partnership with Brown Lee for the Gulf Heritage Mustang is the latest example of what makes Gulf so special."